INTRODUCING GHETTO GASTRO x USM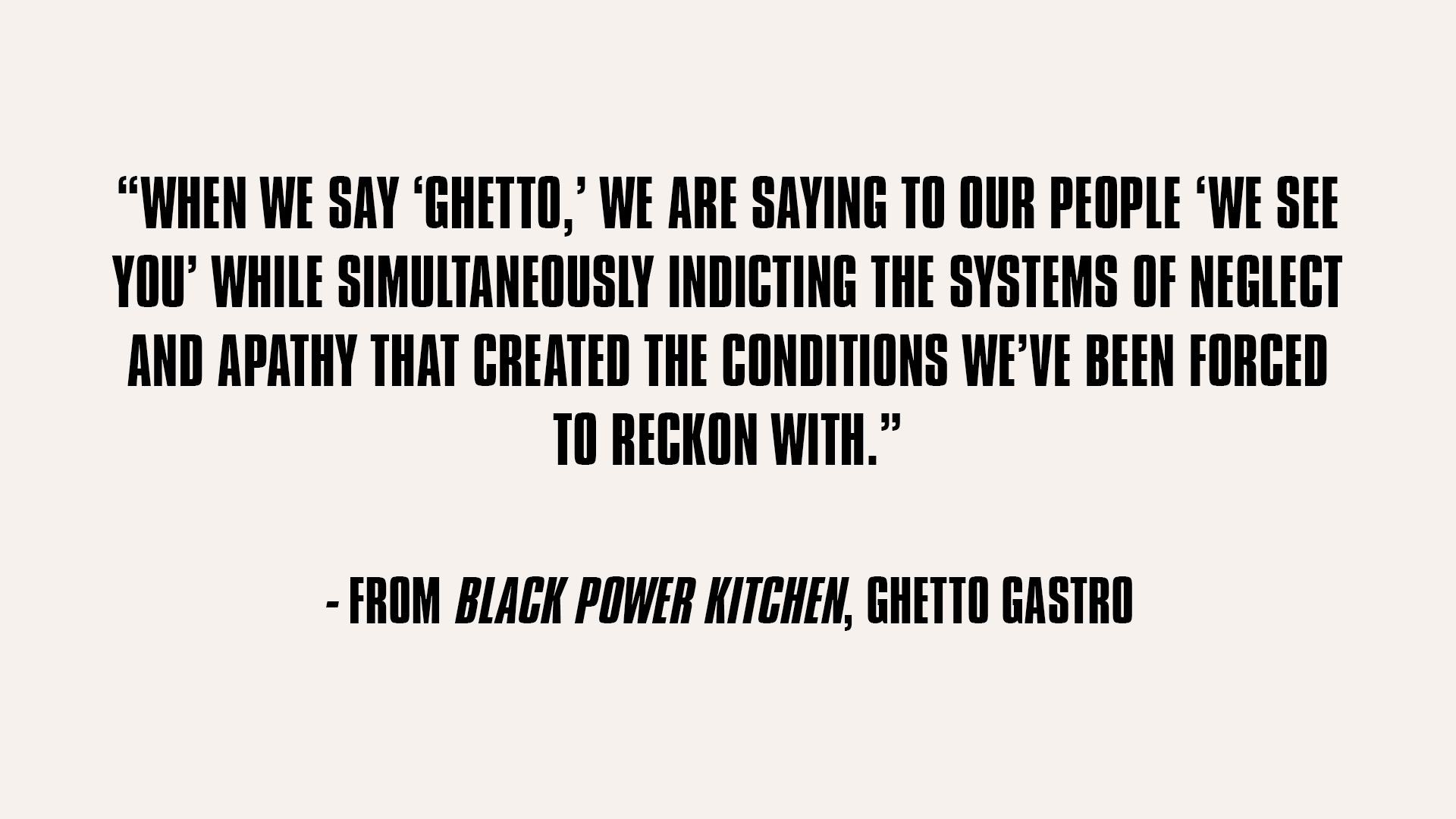 Jon Gray, Lester Walker and Pierre Serrao (Chef P), the trio that make up the Ghetto Gastro collective, are privy to the insiders-only dining experience at those restaurants on the Costa Brava, they have been seen recreating a trad brasserie with a Bronx lean for Cartier in Paris, cooking at The Oscars, giving TED Talks, communing at the patty spot, getting down and dirty at the Bruckner Mott Haven Garden, taking shots at the juice bar. They are building with people in the highest positions of power and giving back to those in need. Like a blazing ring of light that connects – dots, people, ideas, tastes – in ways the more average of us can only imagine, they are glamorous, gifted, gracious, ghetto. They contain multitudes. It is the reason for their success, the beauty of their being. An infinity loop of reality and fantasy. Food is the medium, their methods are anything but ordinary.
What started with parties and catered events, has blossomed into a multi-pronged operation that serves to educate, give back, enlighten and entertain, using food as a tool to tell stories. Where they come from and the cultures that inspire them keep things moving at a clip. Healthy, merged cooking traditions – Black meets brown meets Asian – and a posi-progressive, dare we say utopian, view of the future is unfurled across the brand's food products, Wavy waffle mixes and syrups, and a line of appliances in collaboration with Crux.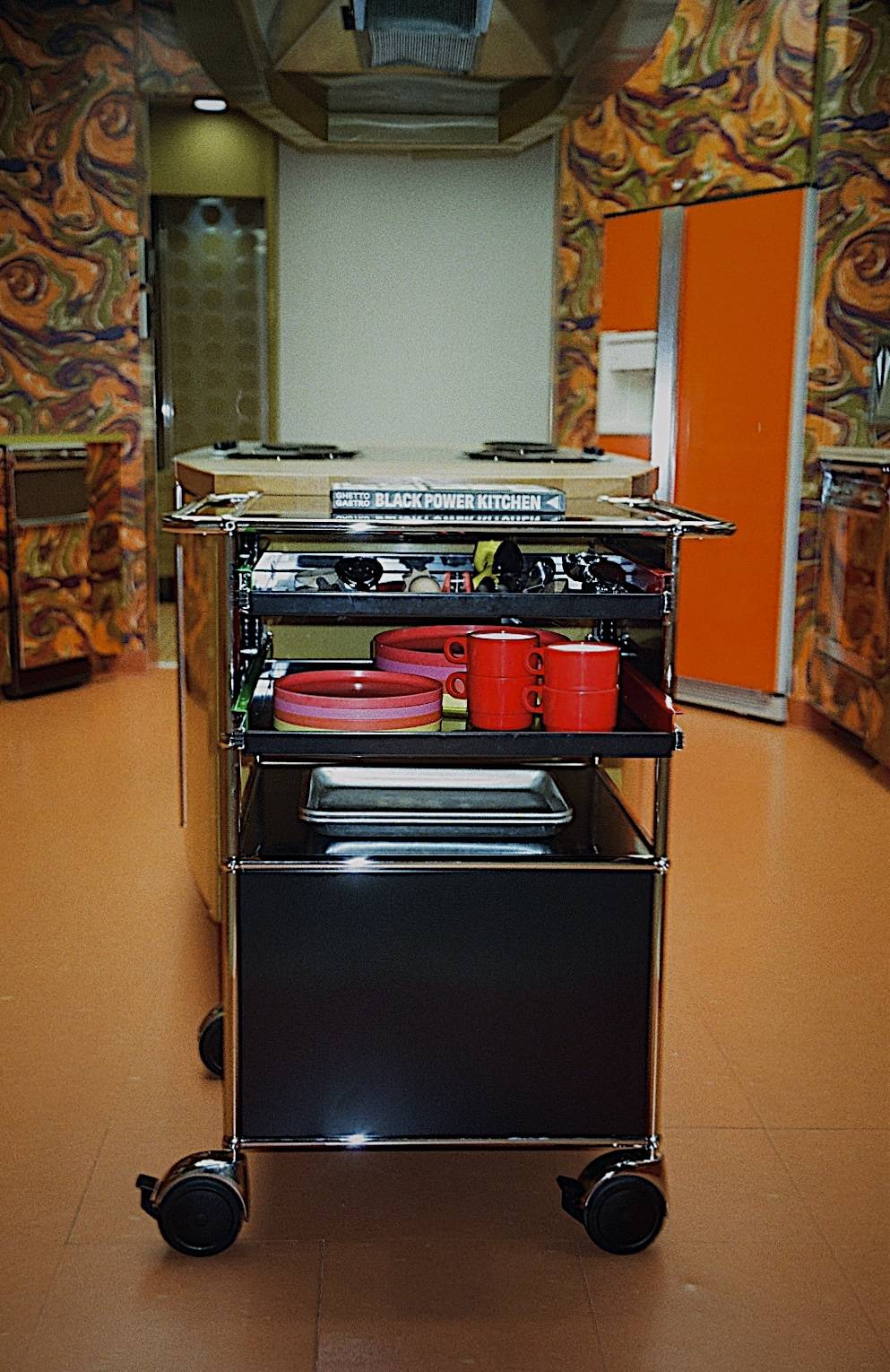 When GG took over the Metropolitan Museum of Art's MetFest a few years ago to promote Wavy, they worked with USM to develop a stunning bright blue stand from which to sling waffles and good vibes. We're obsessed, like everyone else, with USM. Classic and totally of the moment, the modular, drop-dead gorgeous line of slick steel furniture was developed by Paul Schaerer and the architect Fritz Haller in 1961. If you're a cool store or a cool person, you're watching USM, you're figuring out how to work it into your display or home (do I need a buffet?), you're deliberating over color. You want it bad. The GG x USM kiosk was amazing – two brands colliding like a forward-facing vision of positive energy and good looks. But how could we capture it and have a piece, let more people in on this intriguing mashup, share the wealth?
Lester, Jon & Pierre photographed by Joshua Woods
Afternoon Light is proud to present the Ghetto Gastro x USM Gastro Black Power Kitchen Cart, a collaboration developed exclusively for us with utility, flexibility and mobility in mind. It's a kitchen helper, sure, with room for knives and bottle and boards galore. Add a cutting board on top and expand your counter space. But the Cart doesn't stop there. It's also a hallway console waiting to catch your keys, a DJ booth for the living room, a rolling bar cart, a place to hide remotes and gaming equipment, a stately friend for any corner and room of the house. Hefty, hard core, unapologetically cool and smooth. The energy is strength, and Black Power is the message – minimal black is brought to life with surprising interior pops of red and green. Like all USM furniture, the bottom cabinet's doors lock and open with a coin.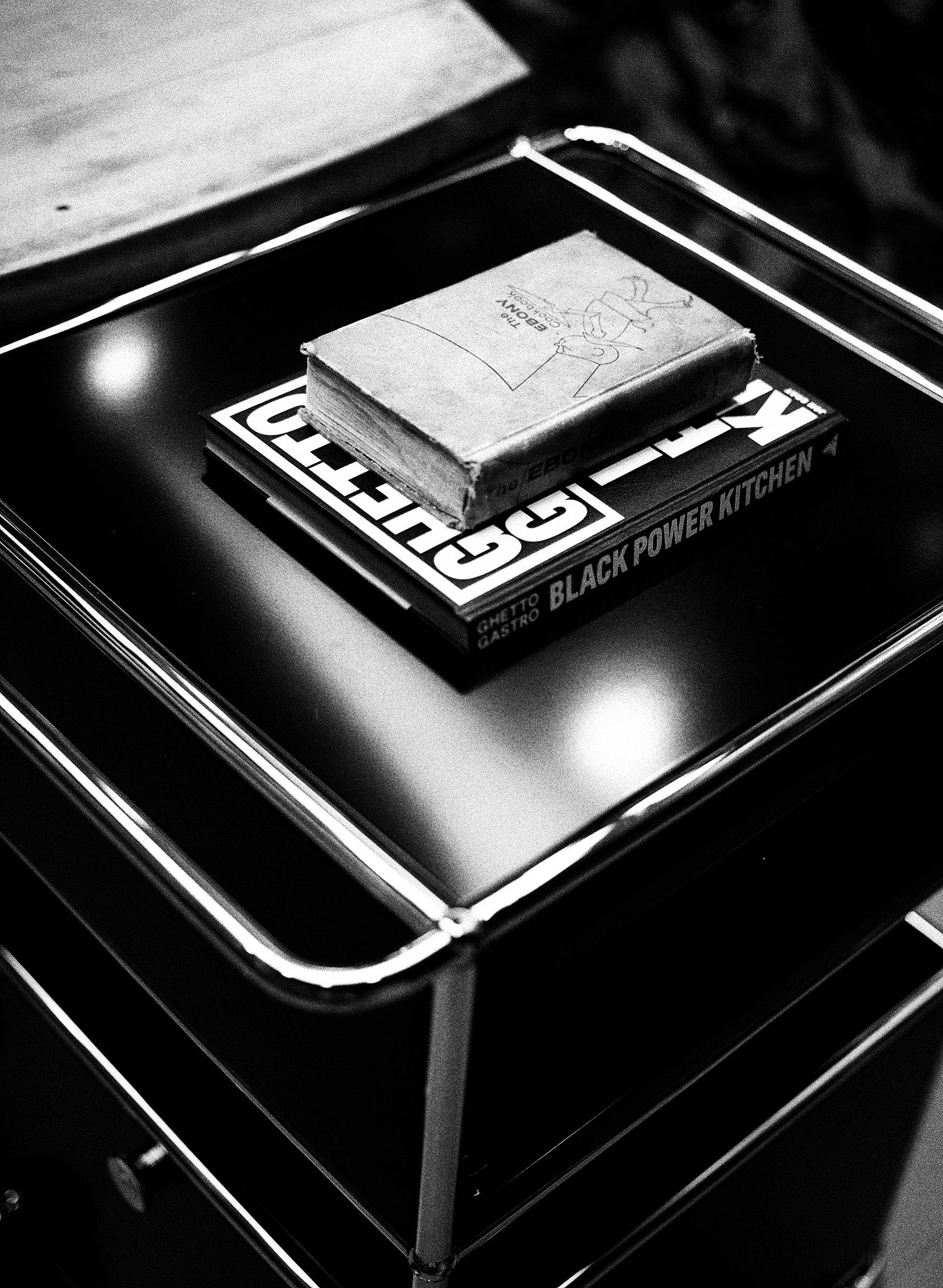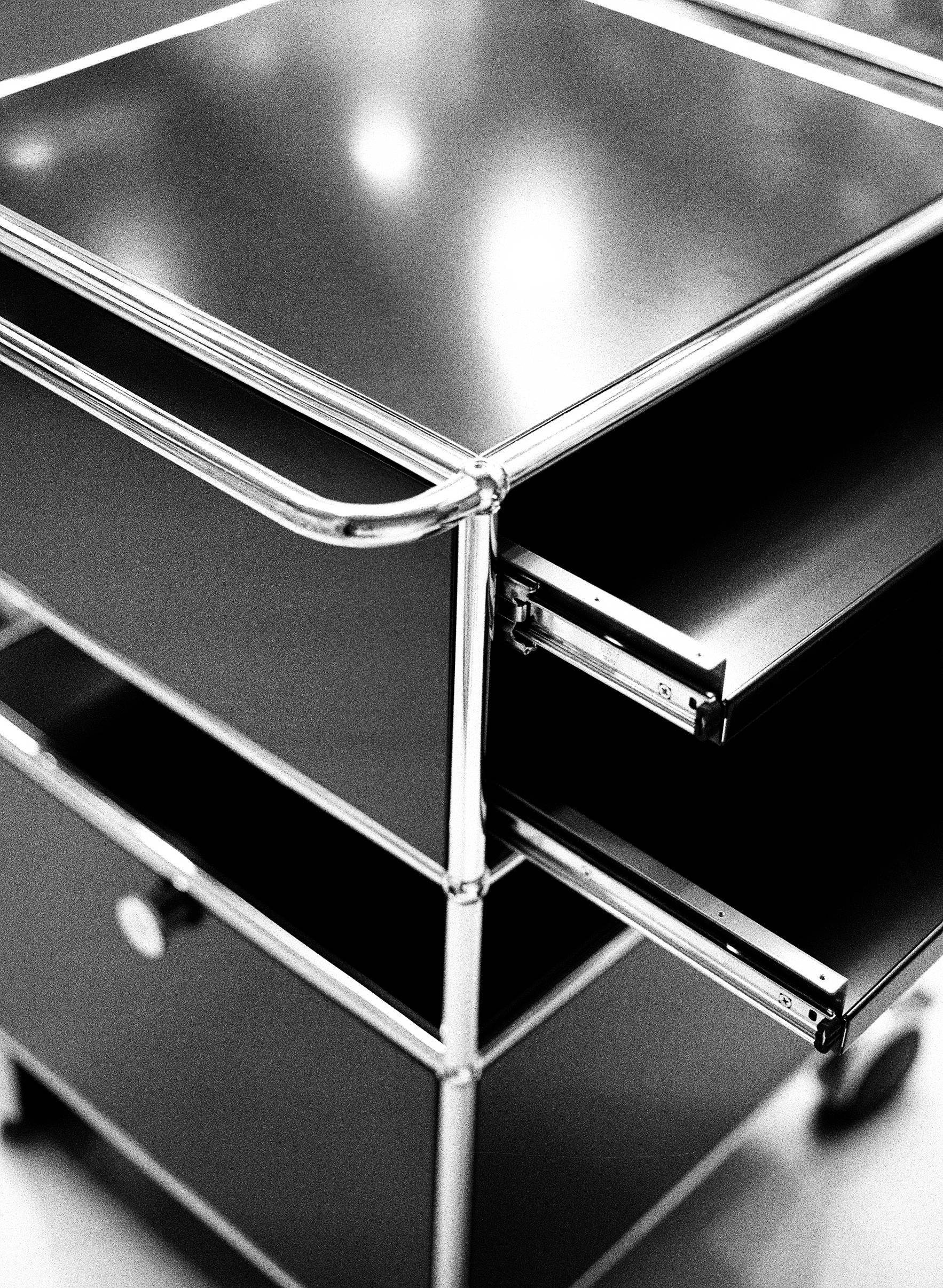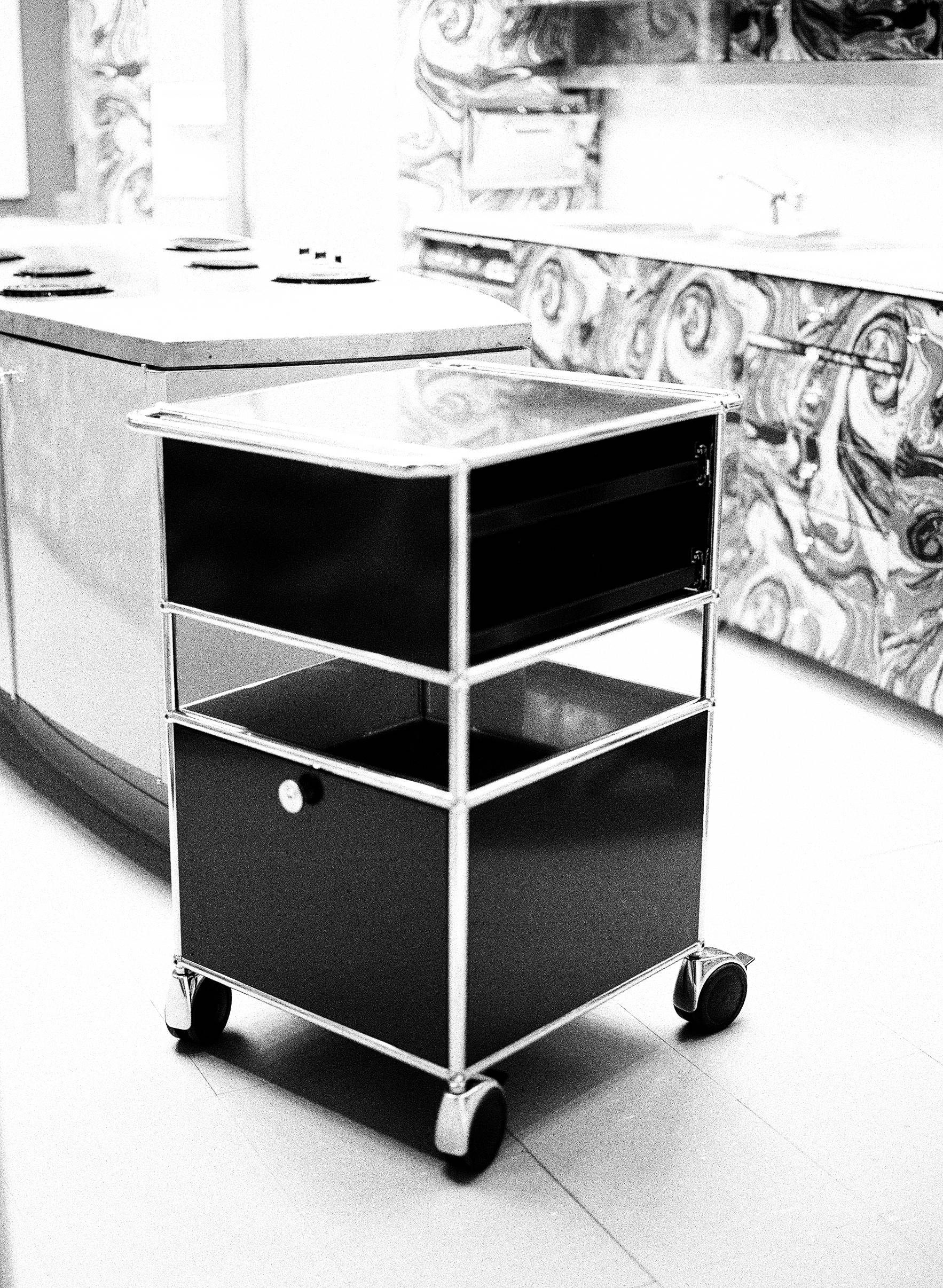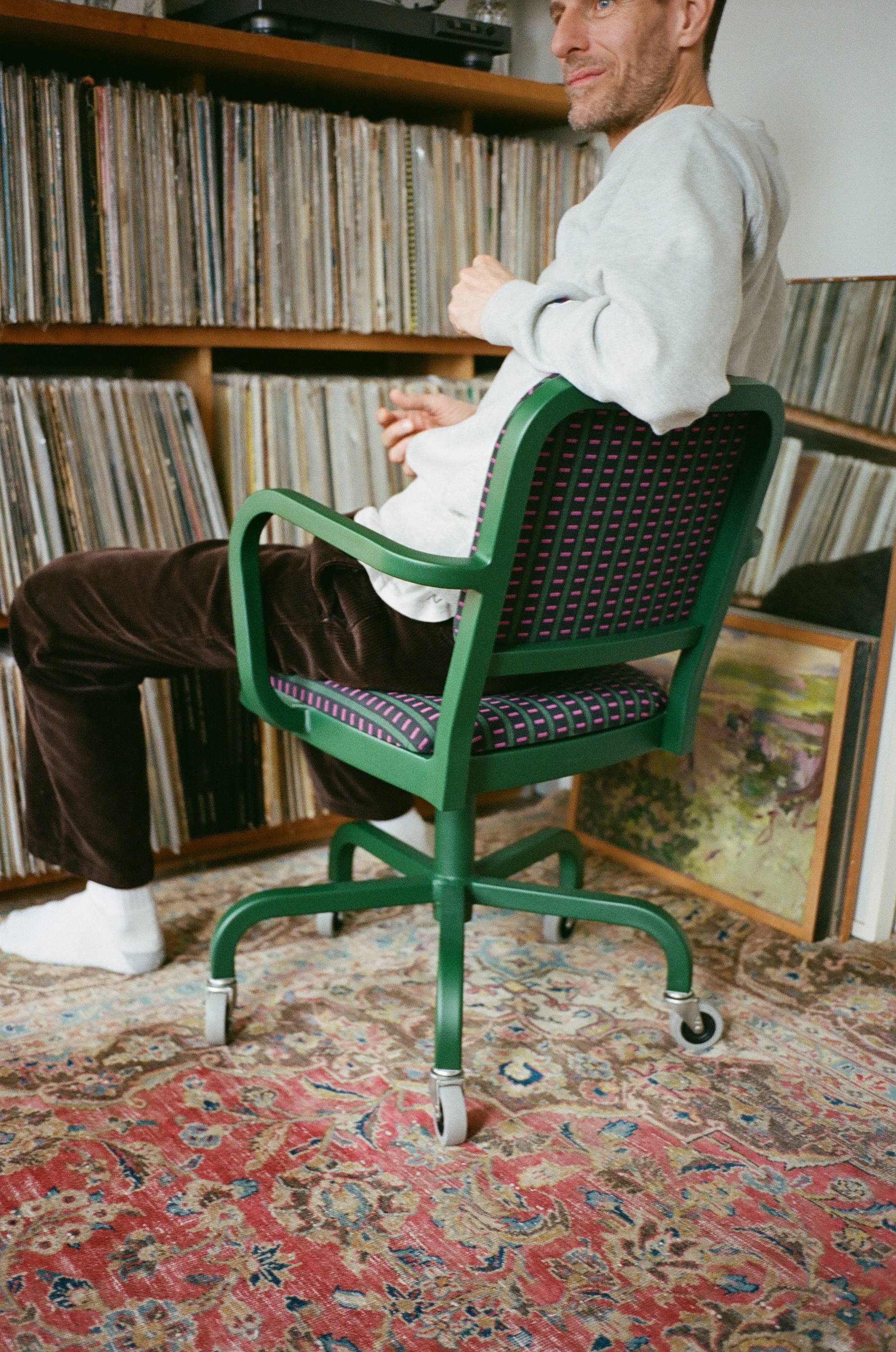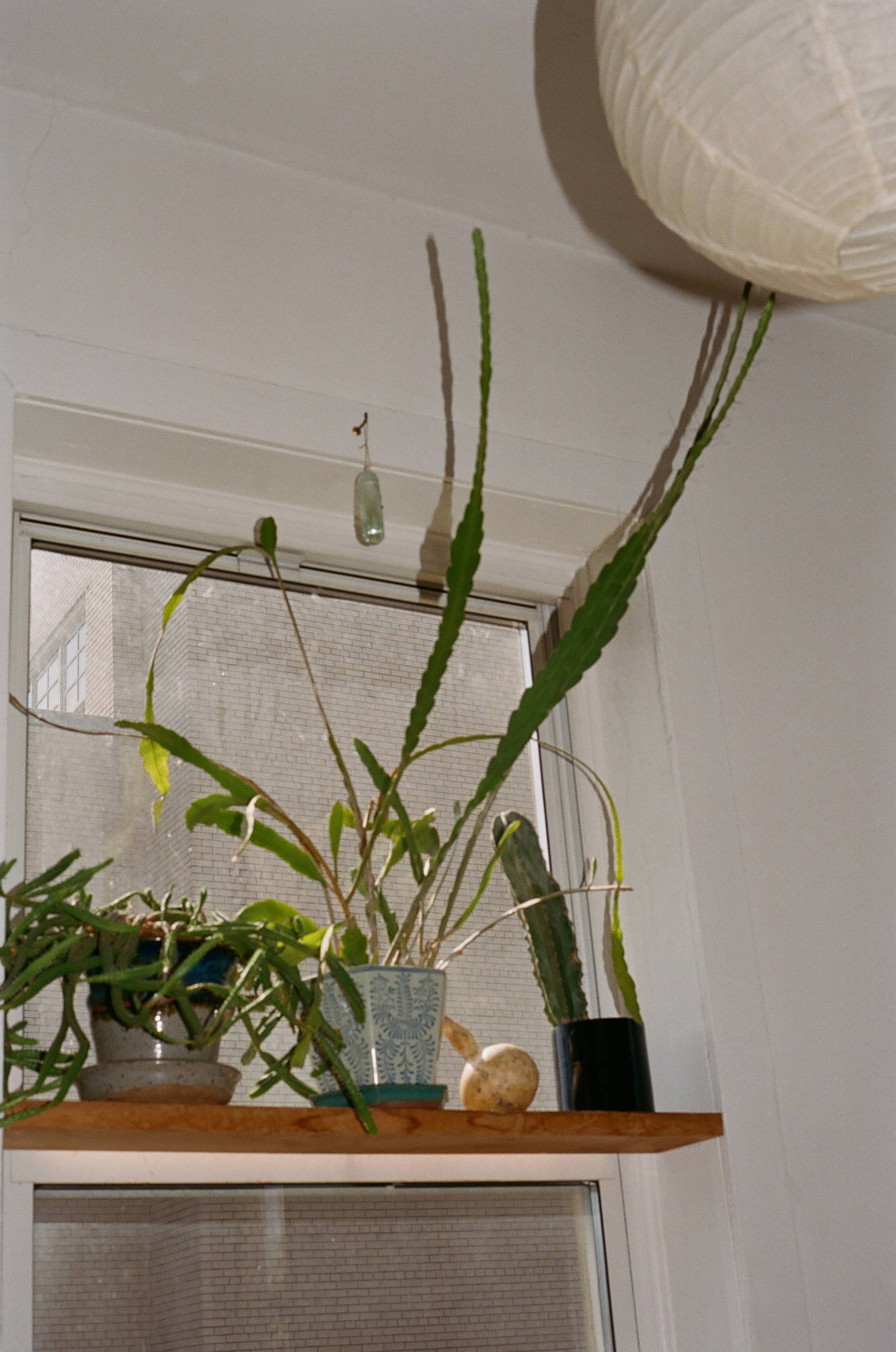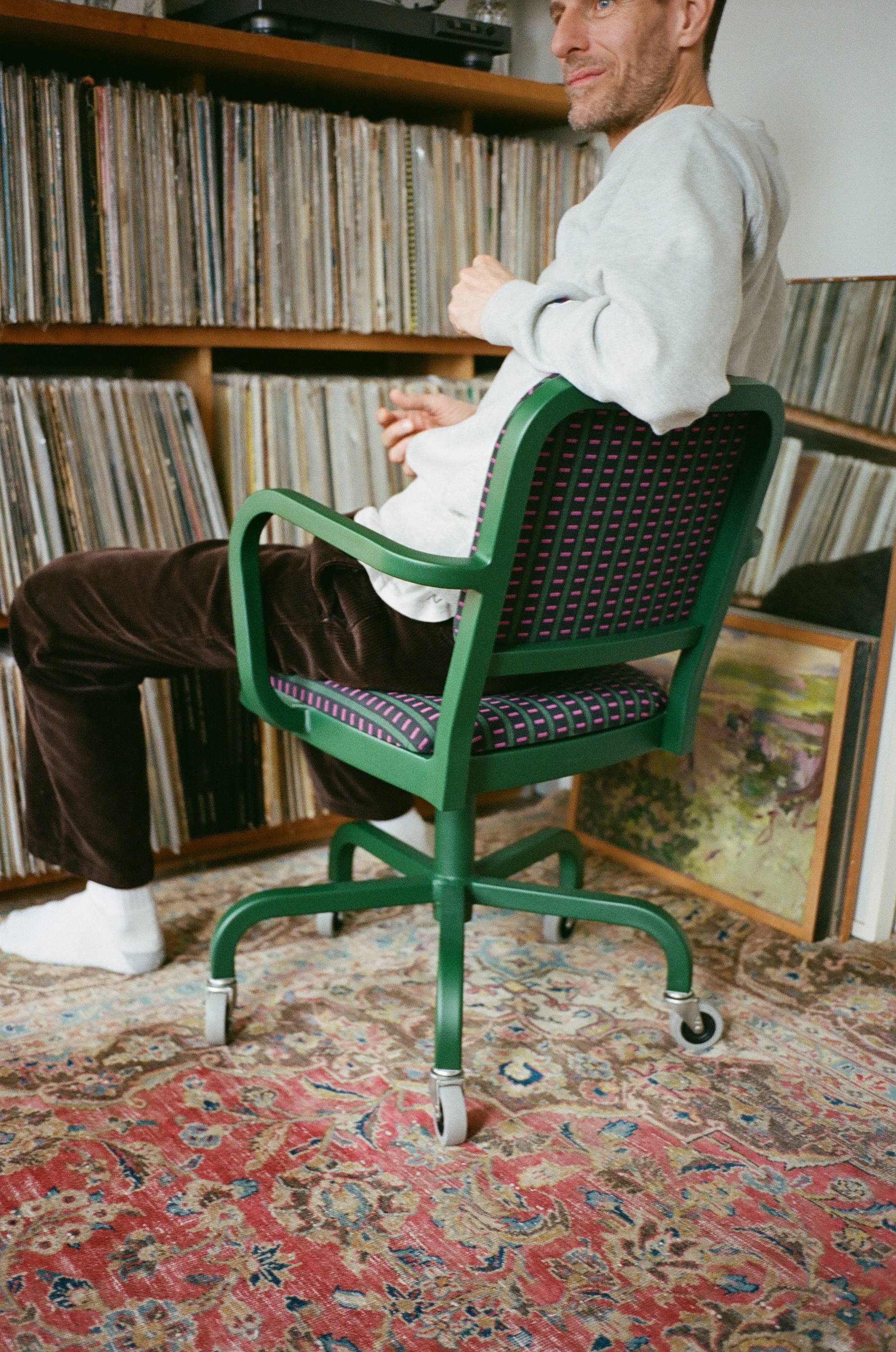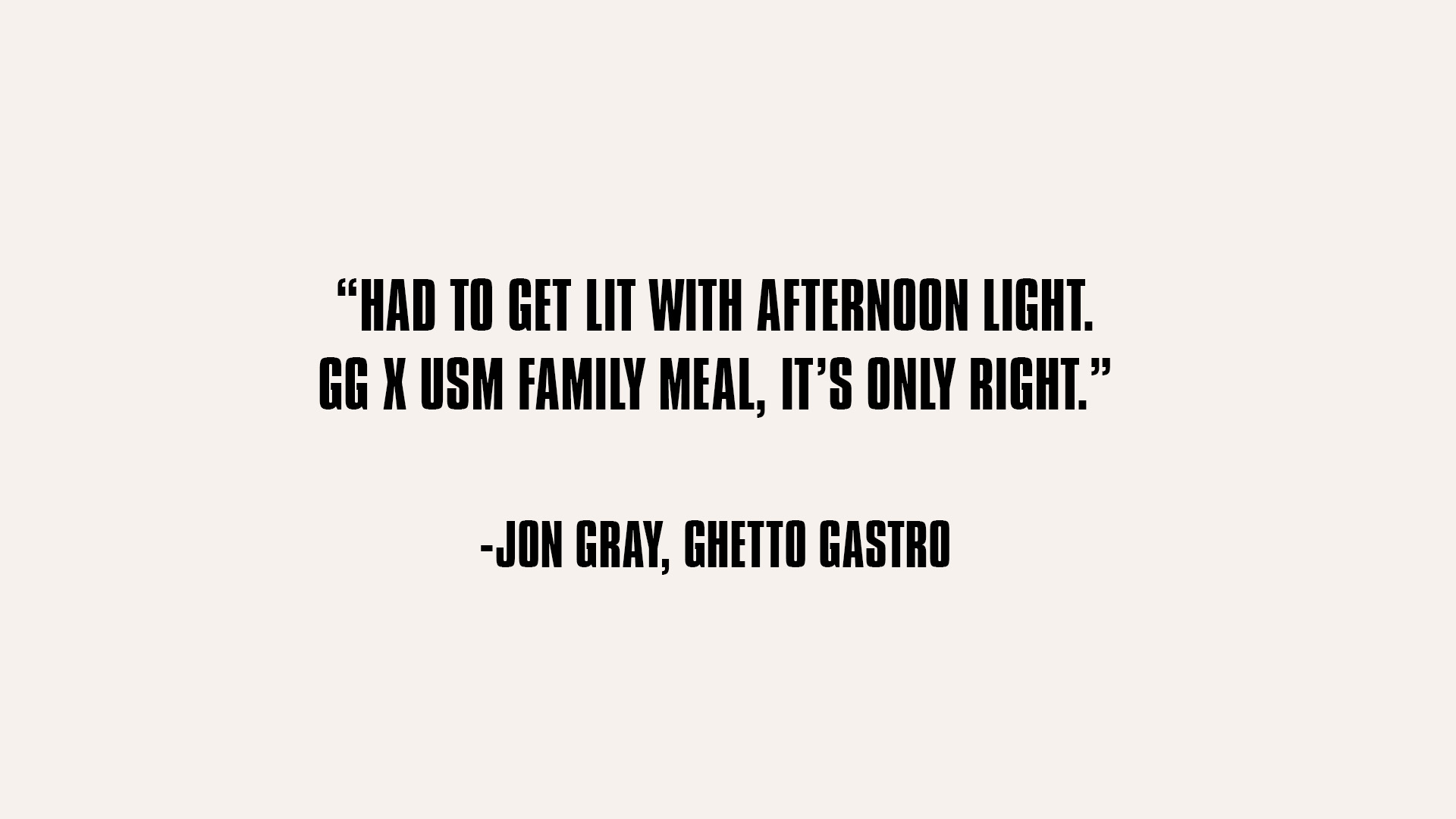 We photographed the Gastro Cart onsite at the Ebony Test Kitchen, resurrected by The Museum of Food and Drink (MoFAD) at the Africa Center in Harlem as part of the exhibition titled "African/American: Making the Nationals Table". The kitchen was originally located in the Chicago offices of Ebony magazine, that was founded in 1945 by John. H. Johnson, and was rescued from demolition, bought for a dollar, and meticulously deconstructed and stored by the group Landmark Illinois. Its recreation in New York allowed visitors the opportunity to step back in time and experience the bonkers 1970s psychedelia that was the backdrop and playground of the massive culinary influence of Ebony, read by 40% of Black Americans at its peak in the mid '70s through the '80s - a circulation stat unheard of for any general-interest magazine at the time. "Here (in the Ebony test kitchen)," wrote Kayla Stewart in the New York Times, "amid the psychedelic waves of orange, green and purple that swirled along the walls, Black cuisine was freed to be experimental and futuristic. For Ebony readers, the magazine's food was a central element of Black identity and pride."
The Ghetto Gastro x USM Black Power Kitchen Cart is a celebration of design ingenuity, and new ideas that honor the past, present and future.
Roll with us.
Photography by Vanessa Feder