THE AFTERNOON QUESTIONNAIRE
Janie Korn is a New York-based visual artist, curator, content producer, and maker of possibly the craziest candles ever. More than candles, they're art. And beyond standard offerings like trippy, detailed tapers and wax replicas of Grandma's-favorite-strawberry-hard-candy, or a bottle of Kewpie mayo, Korn can also whip up a portrait of you, your pet or home, in her signature messy, organic, and utterly charming style. All of Korn's creations are made by hand, carefully formed, sculpted and painted with delightful details and a sense of raw, good cheer. We're very pleased to introduce three exclusive candles by Janie Korn, inspired by the domestic bliss of a bygone era (salisbury steak and land lines for the win!), plus one wonkalicious, heirloom menorah, numbered and in limited edition. A great holiday addition to the home this season, and crafted in resin so you can light her up year after year.
Korn took some time to dive into the twenty questions of our Afternoon Questionnaire. Get to know her...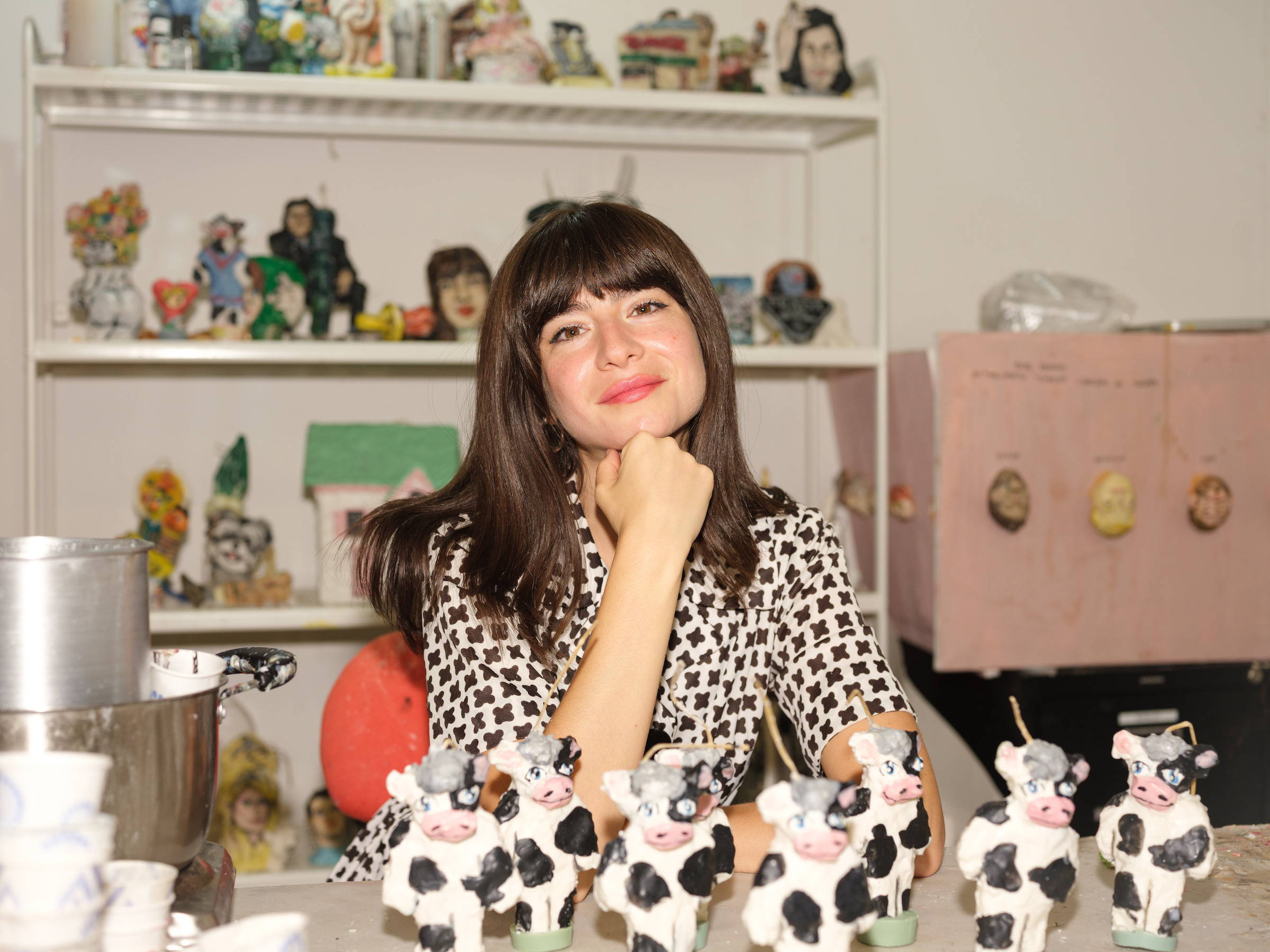 1. Where did you grow up?
In a little, suburban hamlet outside of Columbus, Ohio called Bexley.
2. What are your big three astrological signs (sun/moon/rising)?
Sagittarius/ Taurus/ Aries, which is a blend of impetuous/ feisty, garnished with comfy/cozy.
3. When you were a kid, what did you want to be when you grew up?
A veterinarian, until I witnessed a real life neutering.
4. What do you consider your greatest achievement?
Somehow being able to do a job that I deeply love.
5. What is your most treasured possession?
A beautiful vase made for me by my uncle, who's an extremely talented glass-blower.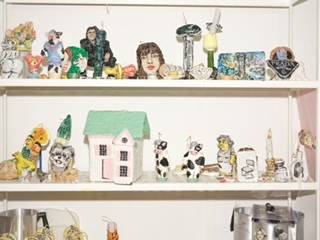 6. What is your greatest extravagance?
Fancy eyeliner.
7. Who are your favorite writers and/or artists?
Harvey Pekar, Sally Saul, Sayaka Murata, El Greco, Edward Hopper, Lorrie Moore.
8. Favorite online source of inspiration?
Radical honesty - probably instagram?
9. Favorite offline source of inspiration?
Old nursery rhyme books, doll museums, Betty Boop cartoons, galleries, New Jersey diners. It's sort of piecemeal for me to get to a good idea.
10. If you could travel anywhere in the world right now, where would it be?
There's this Grimm's fairy tale themed amusement park in the Netherlands that I'm dying to go to. Apparently it's all toadstools and trolls and goblins.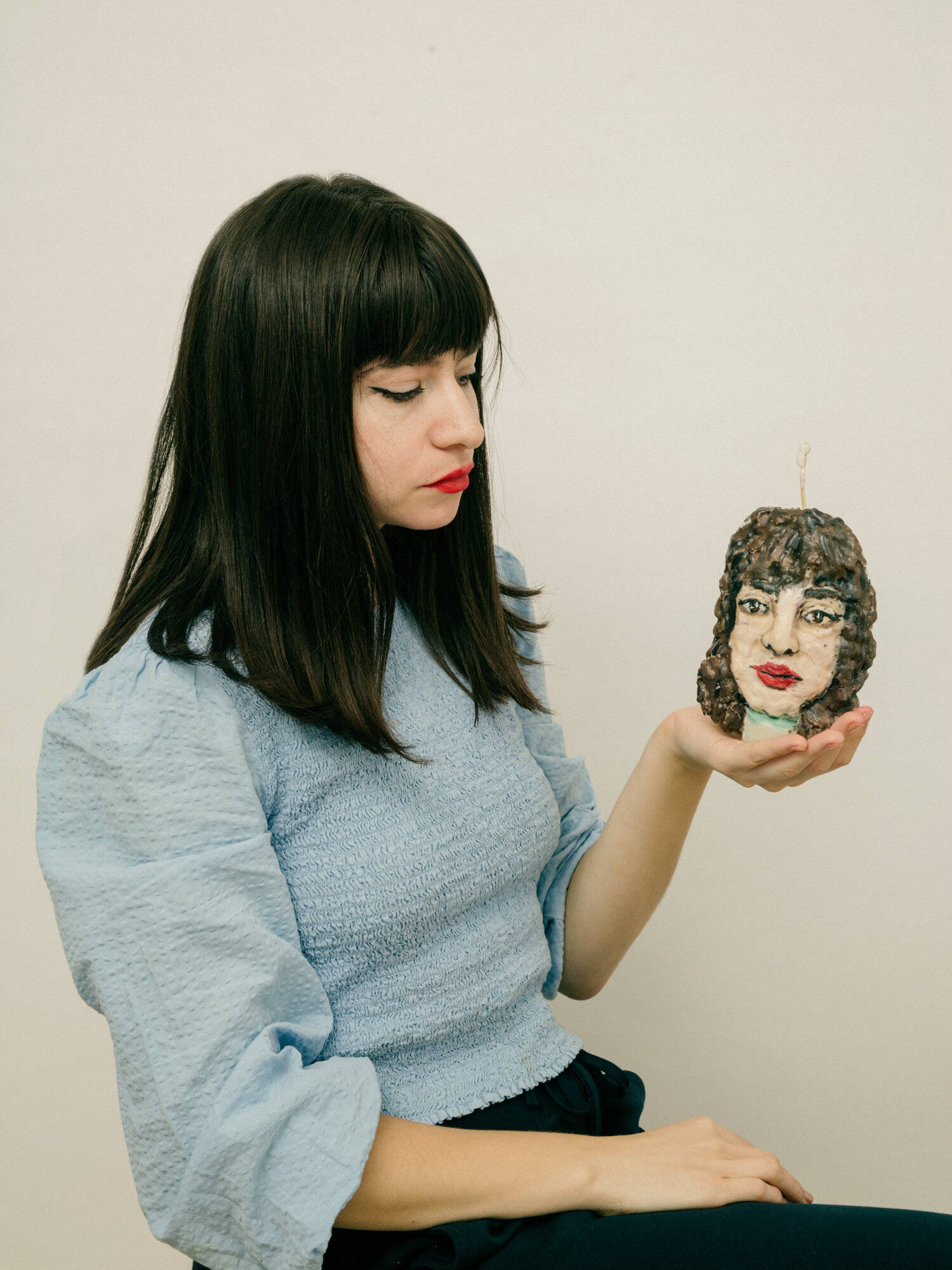 11. Which words or phrases do you most overuse?
LOL, both online and in person.
12. What is your idea of perfect happiness?
Being abundant, doing work I love and having it be received really well. Having a family that's happy and thriving. A fridge full of seltzer and homemade (not by me) dips and dip vessels. A sacred place to create art that smells really nice, perhaps with an expensive candle flickering in the corner. Endless good tv. Walkable cities and rescue dogs.
13. Which talent would you most like to have?
Unbridled confidence.
14. Last good film or TV show you watched?
Recently - Fire of Love and El Planeta.
15. Last three songs or albums you listened to?
16. What's your comfort meal?
Tuna salad served with seedy crackers.
17. If you were to die and be reincarnated as a household object, what would it be?
A Roomba. Or a slotted spoon!
18. If you could have any architect, dead or alive, design a house for you, who would it be?
Frank Lloyd Wright. Visiting Falling Water as a child was so formative. He's playful but elegant.
19. Do you have an overarching design philosophy?
I strive to create work that is uniquely warm, humorous, human and inviting.
20. Morning light, afternoon light or moonlight?
Dusk.