How Terence Conran opened up the gates with the textbook we all need.
You guys remember Tumblr? It's kinda like Instagram, but weirder and more chaotic. And in a way, in a pre-Instagram world, it birthed the whole 'aesthetic' feed phenomena that we're all so familiar with now. You know, an account that is dedicated solely to posting pictures of Arts and Crafts style homes or Brutalist buildings, or like, only rooms with conversation pits. It's not enough these days to just have dope clothes, a nice car, or an amazing record collection. Your home has to be dope too. But if you're here, you probably already knew that. Like, what's the point of keeping a fiddle leaf fig alive if you don't have a notable ceramic planter and an artfully cluttered room where it can live in a corner and add to the aura of your fit pics? Interior design, like personal style and keeping a houseplant alive, doesn't come naturally to all of us.

There are rules and theories that explain why some things work and why some things end up looking like hot garbage. And a lot of times, those rules and that knowledge are held hostage by gatekeepers, people who want us all to believe that you either have it or you don't. Maybe that's true to some extent, but with a little help and knowledge, anyone can put together a decent outfit or a room that could be described as 'considered' by a writer for Architectural Digest. A great thing about the internet is the plethora of design inspo and home aesthetics accounts. A shitty thing about the internet is the plethora of design inspo and home aesthetics accounts. It makes it difficult to know where to start and it makes it seem like putting together a space is something that just sort of happens a priori. But it doesn't. Enter Terence Conran.
Terence Conran's The House Book, published in 1974, is most likely the not-so-secret weapon of your favorite interior design Instagram account's favorite interior design Instagram account. Conran was an incredibly influential designer, retailer, and writer who studied textiles at Central Saint Martins, made furniture, designed stores and bemoaned the crummy state of interiors retail (like us!). His London-based store Habitat, opened in 1964, is often credited with bringing a modern design ethos (and the Chinese wok) to the masses. Habitat was an early adopter of flatpack furniture (IKEA even ended up owning Habitat for a while), made shopping for home as fun as shopping for clothes, and introduced a pick-and-mix, something-for-everyone approach that still influences the best lifestyle stores and retail expereinces today.

I cannot verify Conran's claim that he popularized the duvet, but it's one just nebulous enough for me to take at face value. The House Book with its iconic early edition cover of photo windows on red bricks, is Conran's 400-page tome outlining his design philosophy, a detailed instruction manual the centers images of confident, real, seductive spaces that crackle with a sense of being alive. Despite being a clear product of the '70s, The House Book remains as relevant now as ever. Though whether Conran was a prescient-yet-timeless designer, or society tends to look backwards for trends in times of social and economic upheaval is a subject for someone smarter than I.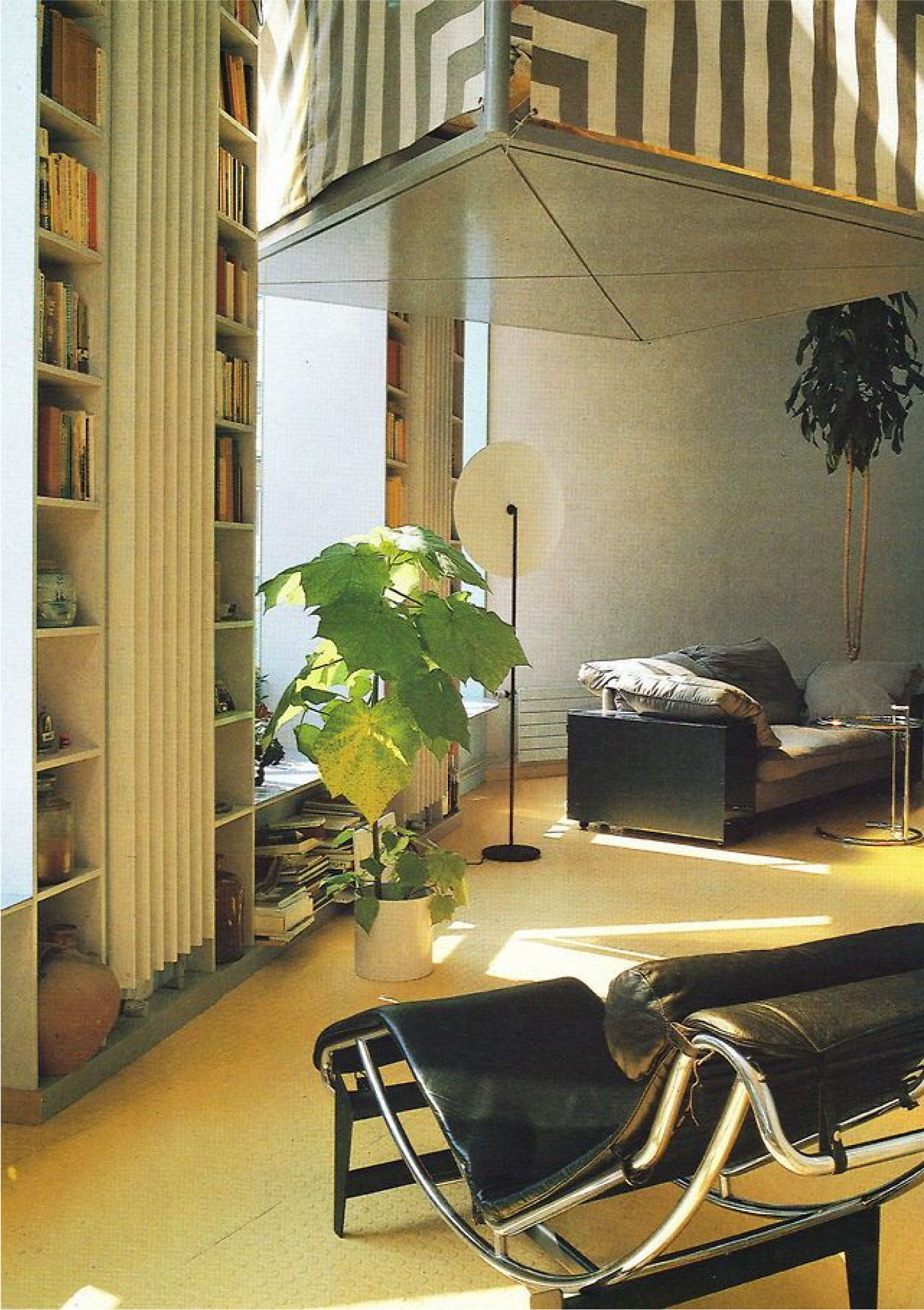 Conran believed that once you grasped some basics of interior design, you could and should create a home to reflect your personality. The House Book is for you, he wrote, "...[if] you know what you like, you are not sure how to set about getting it, and if you find the avalanche of suggestions in books and magazines as muddling as it is inspiring..." Unlike the image- only design references that we're bombarded with on the timeline, The House Book is text heavy, particularly so for a design book. It offers both a more useful source of inspiration than the endless scroll, and a deep dive into the concepts and theories underlying why that weird couch Frank Ocean owns is so cool.

There are whole chapters dedicated to varying components of a room; floors, walls, windows, lighting, plants...you get the point. And each chapter is unafraid to explore the minutiae of its subject, from paint to visual issues like irregular shaped rooms, high ceilings, or narrow corridors. There's even a whole section on heating and insulation. Rules on how high tables should be when paired with particular types of chairs are offered up without ever feeling patronizing or prescriptive. Case studies on one-room living, children's rooms and every kind of living situation you can reasonably think of are considered.

And even if you don't give a fuck about a thousand words on designing a room for a kid aged 3-10, I guarantee you will love the chapter on Things. Conran gives parameters, general rules, and guidelines but encourages the reader to fill in the blanks. There's a tacit acknowledgement that a home will reflect its inhabitants and the necessities of their lives. Conran never advocates hiding away the quotidian aspects of home life (looking at you TV) and he leans into the inevitability that we will continue to add to our own personal menageries as life goes on. The artifacts of real life become a celebration of the idiosyncrasies of our home lives and offer the opportunity to express ourselves to the world - or at least our guests. The rooms featured are incredibly varied with the single unifying trait being that they all look lived in and functional. Each somewhere we'd like to visit, somewhere we'd like to live.
Conran and The House Book set out to demystify an interior design world that can be shockingly expensive and opaque. Always conscious of budget, Conran's acknowledgement of the economics involved in decorating and planning a home is a refreshing take and a big factor in its initial and eduring popularity. While he doesn't shy away from how much actual work it takes to put together a home (he encourages creating briefs, scale drawings, and meticulous measuring before any purchases are made and stresses that before a home can be an expression and display of your personal tastes and lifestyle, you have to know what you have, what you want, and where it will fit), Conran does offer the best, everyman textbook for getting it done.

The House Book remains a sort of Rosetta Stone, deciphering the coded language and mores of interior design into a lingua franca we can all understand. And the best thing about The House Book? It's still widely available and affordable, just as Conran would have wanted. Hit up your favorite used bookstore or library, maybe even your parents' bookshelf, and I'm sure you'll find it. Once you've hunted down your own copy and posted your favorite rooms and walls and shelving units to your feed, just make sure to cite your source material. You don't want Sir Conran looking down from his warm, welcoming, impeccably appointed heavenly abode talking shit about your gatekeeping of knowledge, do you?
Words by Jon Moy
Images courtesy of @retrologyfinds, jpegfantasy.tumblr.com, lagomdesign.co.uk