LIVE,
LAUGH, LOVE GODAMMIT!
I Stayed in an Airbnb Full of Inspirational Word Art Decor…and Kind of Liked It.
SNL has spoofed it, even mainstream House Beautiful has called it dumb, it's a laughing stock on Tiktok. You've seen it and you hate it; it's inspirational word art home décor. It is presided over by the most OG, the grand Dowager Empress of decorative word art phrases: LIVE LAUGH LOVE (L3). This breed of home decor has become so ubiquitous, so representative of a certain type of person (she's a white lady), and alludes to a certain right-leaning, blinders-on, ignorant, placated mentality so typically American in all the worst ways, that at this point, L3 has basically been flipped into a full blown dis in three words. Bad fonts, wine drinking, family, positivity and sometimes God take center stage in word art home décor. Variations are plentiful at any superstore in the United States, on Etsy, and definitely at the Word Art Mothership: Home Goods. Word art décor is often is printed on wood or particle board of all sizes and shapes, meant to be hung or perched on a shelf, and commonly references a countrified shabby chic aesthetic though not in a cool cottagecore way or an ironic, hip granny chic way, just in a really…bad way.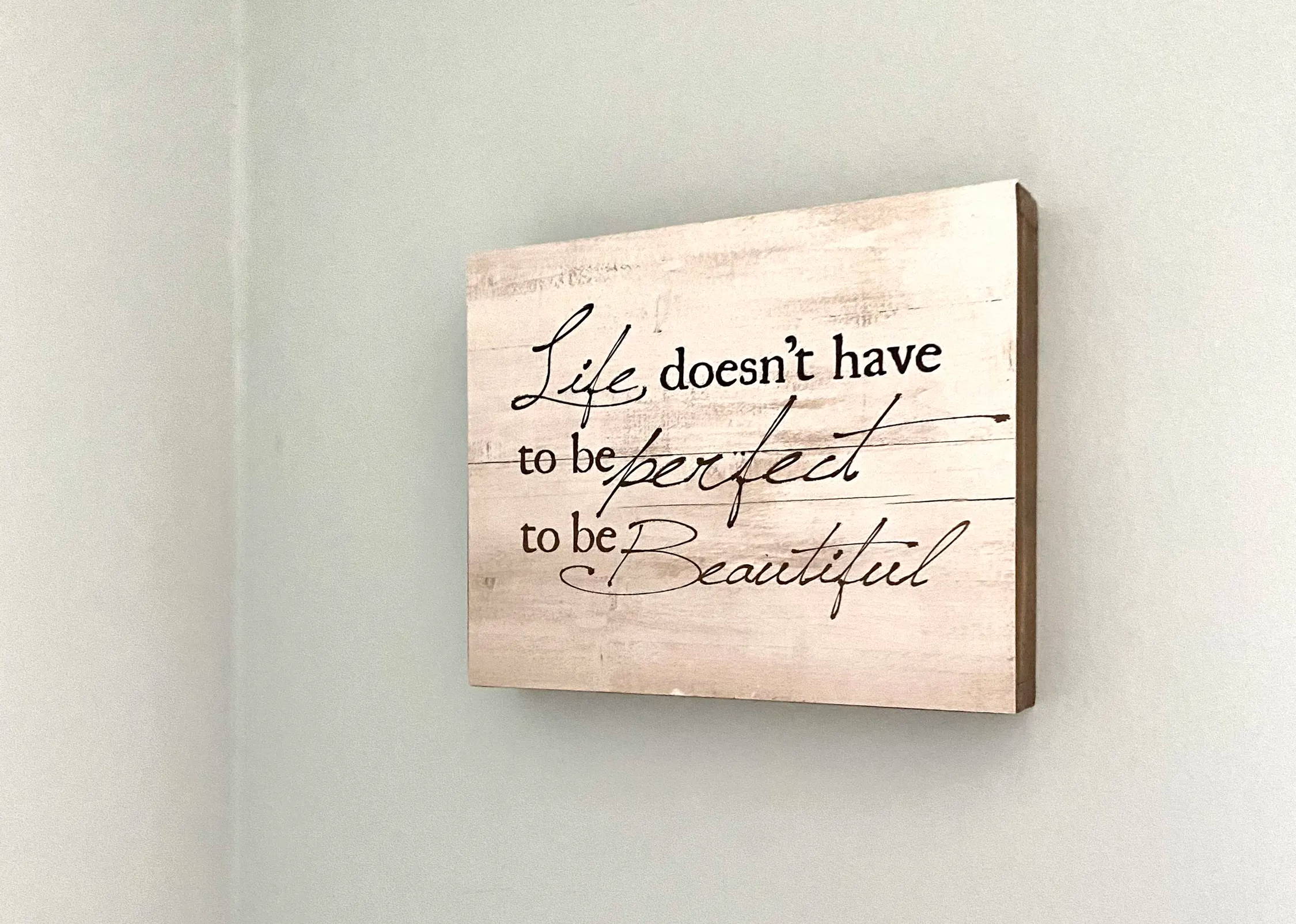 Wikipedia says that LIVE LAUGH LOVE was cribbed and abbreviated from a 1904 poem called "Success" by a woman named Bessie Anderson Stanley, then popularized in newspaper advice columns that misattributed it to Ralph Waldo Emerson. Maybe the L3 trend is behind us, hitting its peak over a decade ago but let's face it, L3 was the trojan horse that all other word art (funny kitchen rules, old timey laundry room decals, DIY letterboards, neon wall signs) rode in on. And it's going strong; there's the art for walls, there are mugs and coasters, throw pillows and blankets, jewelry boxes, candles and endless tchotchke all available, bought, and sold with posi-vibe, pseudo-spiritual, motivational printed musings; all daughters and descendants of L3, the bastard children of KEEP CALM AND CARRY ON.
In the fall of last year, I rented an Airbnb for my family in downtown Frederick, Maryland for a long weekend. Downtown Frederick is a 50-block historic district that reeks of charm and feels just hip enough and like it should definitely make a list of Best Places to Live in America (it's ranked number four here). We were there to visit my brother and sister-in-law, who is battling cancer. That weekend was in the middle of a four-month long period of intense chemotherapy and we didn't know how successful it was going to be, or much else, except that her cancer was very advanced. To be together after such a terrible diagnosis, under the stress of it all and in the midst of the deep unknown with the shadow of death lurking no matter how positive we were trying to be, was wonderful and we spent as much time at their house, in the outskirts of Frederick, as we could. When it was time to sleep, we drove home to the Airbnb, a beautifully restored, old two-story town house with miniature, turn-of-the-last-century proportions but jiggy modern upgrades like heated tile floors in the bathroom. I didn't know the house would be full of word art. But it was.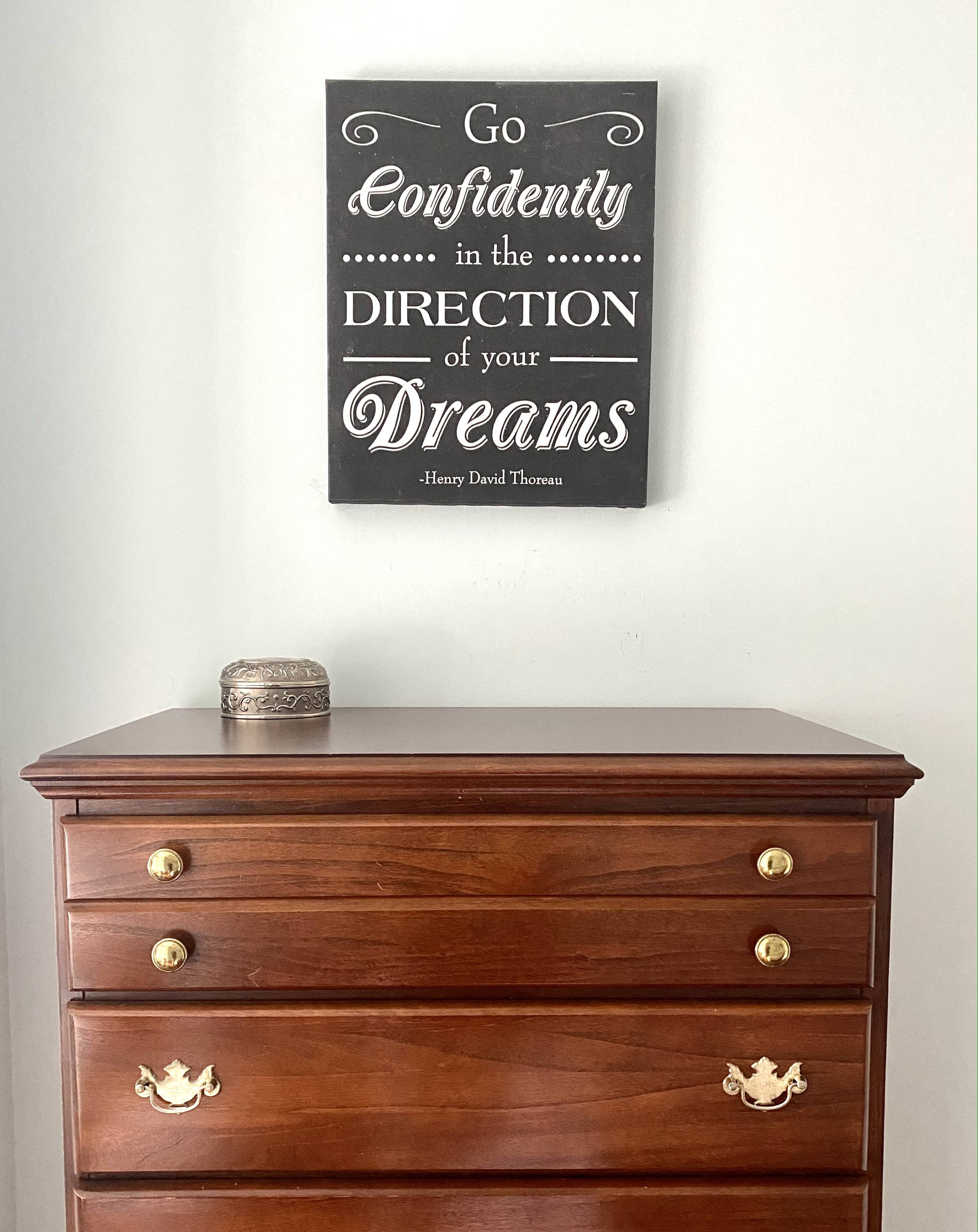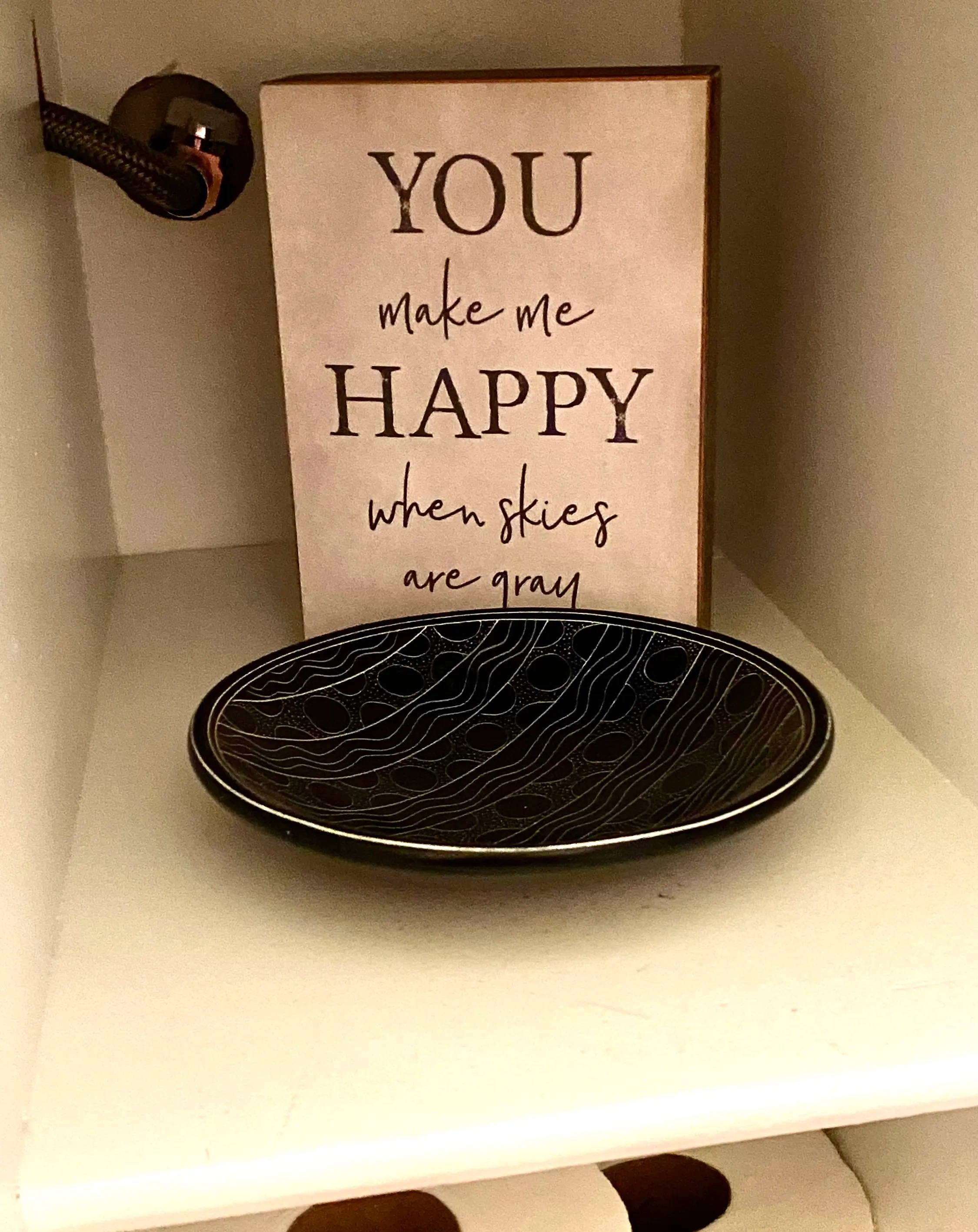 I rolled my eyes when I first saw a Thoreau quote about the "direction of your dreams" in the second bedroom. I was mildly irritated at a BLESSED pillow perched on the couch, made a face at something about COMMUNITY hanging next to the coat rack. I didn't fully register the corny decor in the Airbnb listing photos, or maybe there weren't better options in town. I'm pretty picky, inspecting images like a forensic examiner when choosing out-of-town lodging. I make folders of multiple options and zoom in on pictures and maps, and fastidiously read reviews and usually ask the owner or concierge lots of really annoying questions before booking. I'm still not sure how the word art decor in this listing escaped me, because it might have been a deal breaker. That's how not down with word art I am, unless we're talking Ed Rucha. Christopher Wool. Holzer or Kruger. Totally different story.
So here we are in this sweet, clean and comfortable Airbnb, under equally happy and hard circumstances. I'm sitting on the toilet, or just opening my eyes after a sleep with my daughter in my arms or talking to my son who's asking me about his aunt, "is she going to be ok?" and I have to confess – I'd look around and these sneaky little blinking reminders, the fucking signs with their YOU ARE LOVED from behind the extra toilet paper, and LIFE DOESN'T HAVE TO BE PERFECT TO BE BEAUTIFUL, the straightforward LIVE, and the borderline Zen, IT IS WHAT IT IS and they made me feel…good. Couple being away for this particularly emotional visit in a cute place that wasn't mine with being subliminally forced to consider the beautiful complexity and enormity of life for a few split seconds, and what do you know? The awful looking, trite, cheesy word art décor did a surprising, moderately effective job of lifting me up. It was like the moment of wanting to kiss a guy you've never been into, just because something about the mood or in the cosmos was perfect. Your mind telling you no, but your body telling you yes. So wrong it's right. Those awful word art signs gave me moments of pause and reminded me of grace, to be present in a place of gratitude, and of the power of optimism, when I really needed it.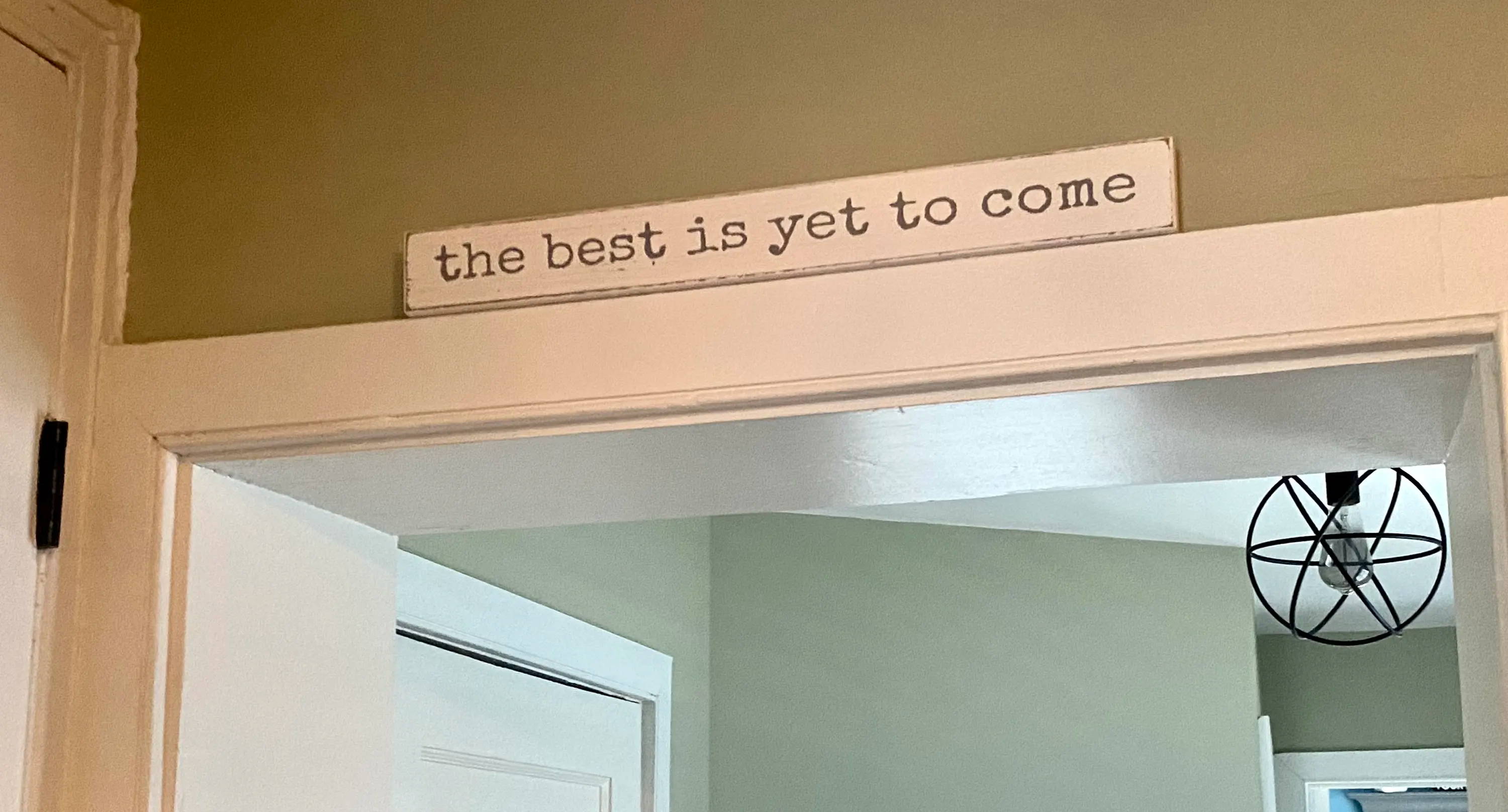 I'm not going to hang any word art home décor in my own house. But a weekend spent living in a world of L3 made me sort of get it. The people who fill their homes with this decor don't give a shit whether you think they're basic boomers (because they are, and boomers typically have no fucks left to give, for better or worse), they just want some easy help getting through this thing of being alive in the world right now. We all have our crutches; horoscopes via email, affirmations via text, Headspace or Calm, crystals, church, crypto, music, wine or weed. Maybe L3 isn't your crutch, but let's allow each other to get by the best way we know how, even when it's in questionable taste (TO YOU). Part of life's journey is evolving, and part of evolving is trying not being so judgey. But hey, if we are going to get a little judgey with it, riddle me this: L3 art is "bad," but are Rothko-implied or Stella-esque styles from West Elm really any better?
In early December my sister-in-law's doctors called the stunningly effective and near-statistically impossible results of her chemo, "a miracle." For Christmas, my daughter made her a hand-painted wooden sign decorated with daisies and words. The project was wholly her idea and executed carefully, seemingly inspired by either Ice Cube or the plethora of L3-adjacent goods in the world today. A pure expression of hopeful 9-year-old love for a brave, recovering aunt, it reads: TODAY IS A GOOD DAY.
By Minya Quirk