CLAW MONEY X 420 MAMII
for
AFTERNOON LIGHT
THE RESIN ASHTRAY
If you're lucky enough to be around Claudia Gold aka CLAW Money, you'll understand immediately why she is respected and loved by so many; it could be her infectious howling laugh, her Jewish grandma-like curiosity about you and everything around her, a tremendous generosity of spirit, the fact that she's hilarious, or maybe you'll just be enthralled by her myriad stories and legendary OG status.
Known for being one of the most highly respected female graffiti artists ever (we dare you to walk the LES and not pass one of her iconic three-taloned CLAWs in 2023, but she's been getting up since the late 80s), Claudia is also a master collaborator (think Nike, Calvin Klein, NASCAR, Ugg, Vans…it's an endless list, really) and was an early influencer in the ladies streetwear game with her eponymous brand. She is a longtime vintage slinger, with an arsenal of historic garms that she recently curated for loan to both FIT's "50 Years of Hip-Hop" exhibition and Beyond The Street's recent show at London's Saatchi Gallery. She's also a tireless mentor and lifter-upper of women worldwide, plus a mom, and a smoker.
We're pleased to introduce a resin ashtray in two styles, made exclusively for Afternoon Light by CLAW Money x 420 mamii for the occasion of, you guessed it…420. Puff, puff, pass. Then put it out in style.
We asked Claudia and Jada Ortega of 420 mamii some questions related to this naughty-healthy habit, here's what they had to say: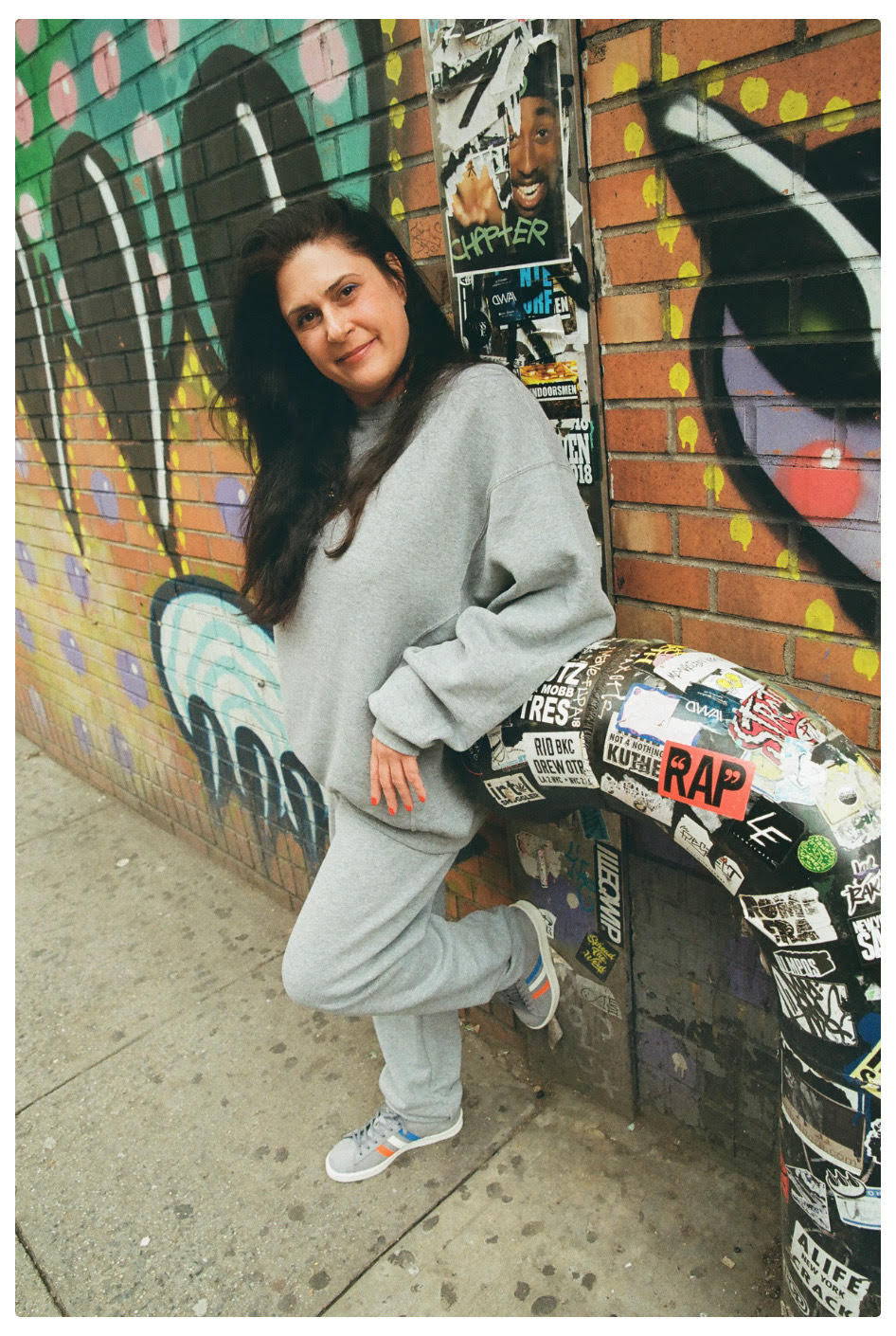 Happy 4/20, Claudia!
Happy 4/20!!! But also, we don't need an excuse - it's always Claw20, 24/7.
When was the first time you smoked weed?
In 7th grade with my new Roslyn homegirls - I think it was rolled in "draft paper" rolling papers. Very leftover 1970s in 1980s Long Island.
What's your favorite time of day to smoke and why?
I prefer to smoke after a long day - much like a happy hour cocktail. I also like to indulge earlier, as a lil' sneaky treat. On the weekends it's wake and bake with my hubby. Basically, it's there when I need it which is all the time and anytime!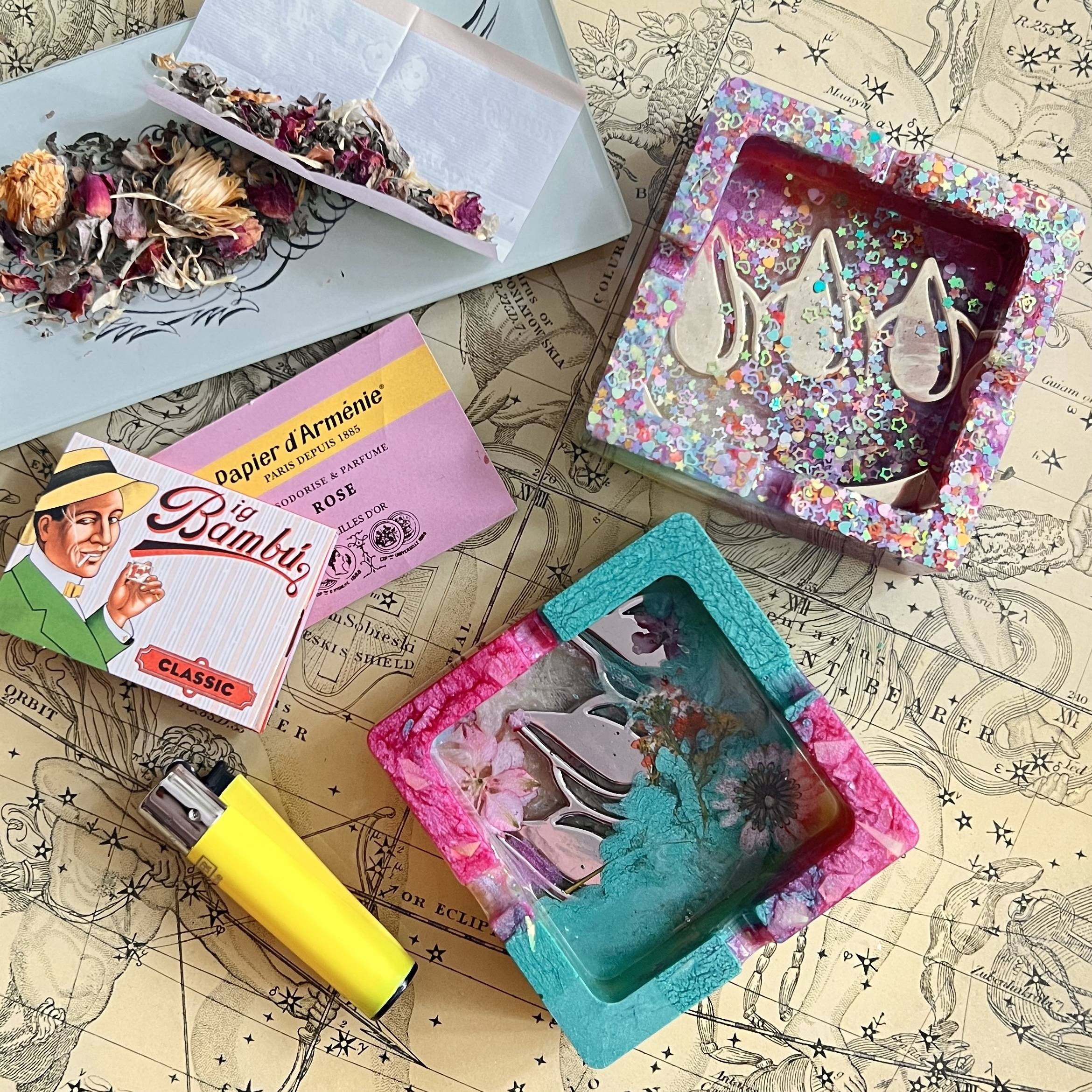 What's your preferred method?

I've tried it all different ways and still, even with all the new technology and preparations, I much prefer the tried and true: good flower crushed up in a tasty joint.

What's the best weed-related accessory in your arsenal?

Obvi a cute ashtray. I think this one needs a matching rolling tray, ashtray, and stash box. We're going to have to make that set!!

Is smoking naughty or healthy?

It's naughty healthy, an awesome combo. It's very necessary for pain reduction with menstruation or stomach ailments. It's great to help with anxiety and arthritis - not to mention relief from cancer treatment, we know this, people! But there is a little bit of devilish thrill in inhaling smoke into your lungs.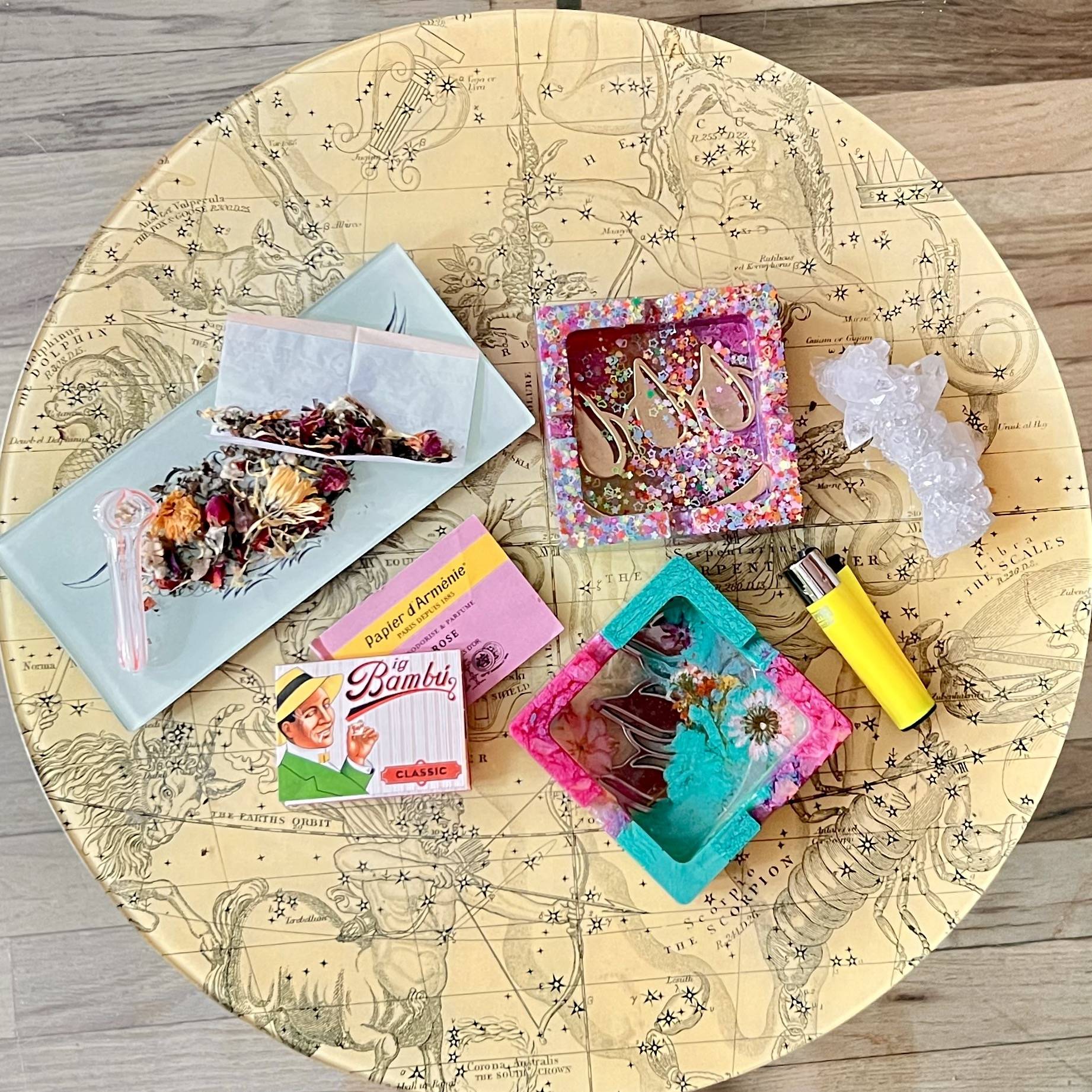 How many ashtrays do you own?
I own at least 20. They are constantly getting broken – but not these resin ones! I use ashtrays for smoking but also as catchalls for everything tiny in my home. Jewelry, change, pins and needles, crystals, and my kid's miniature toy fragments. Handy and dandy.
What's the vibe of your brand?
The vibe of my brand is sheer enthusiasm. It's about self-propelling, making your own path, and enjoying life!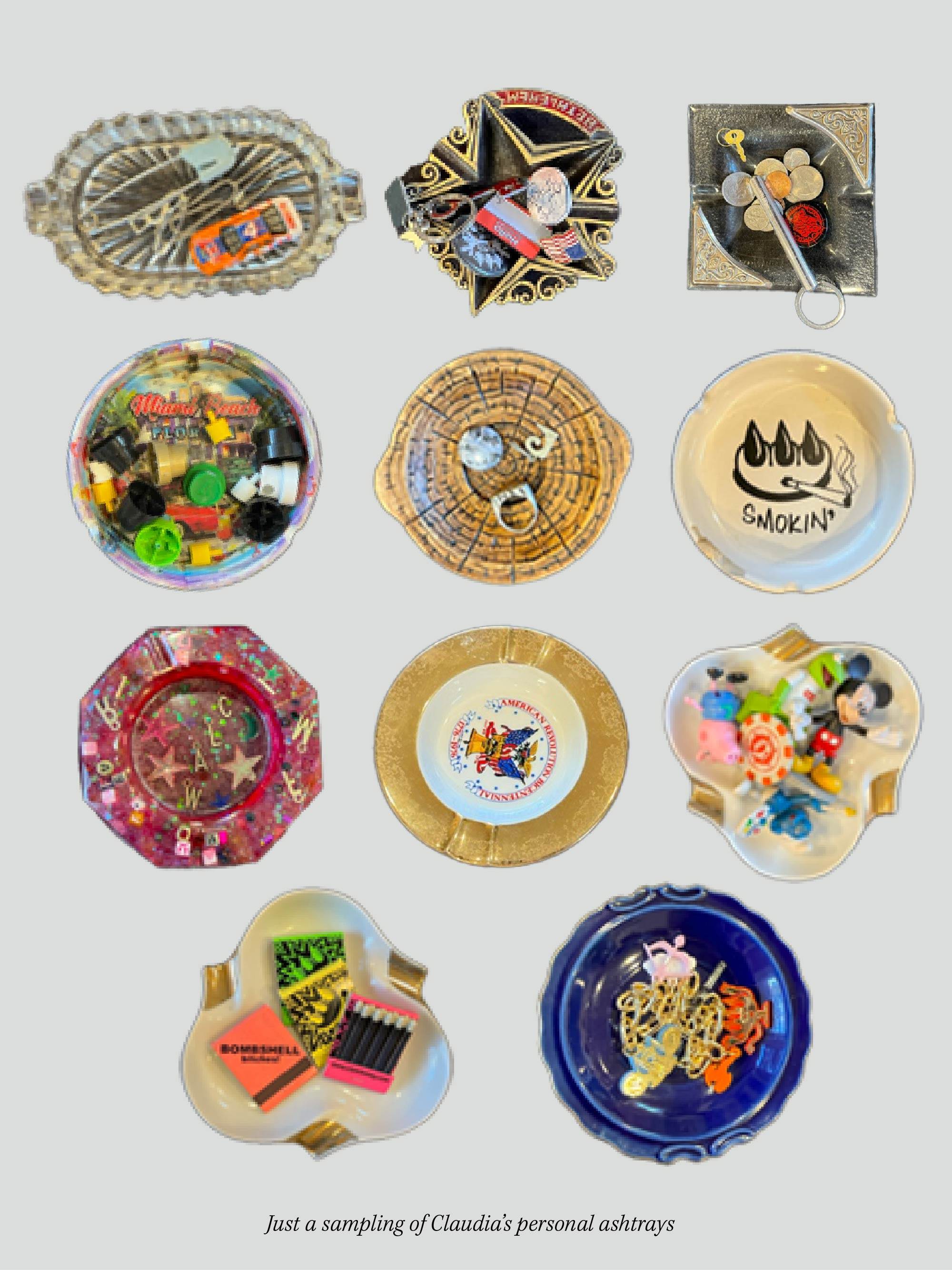 What are your cornerstone design values?  

Bold and brash: in your face and on your mind!

What's next for you?

Working on more historic fashion exhibitions for Hip Hop 50 and trying to get my butt into the studio to do more canvases.

Who needs this ashtray?

This ashtray is for the weed smoker who wants to elevate their private, little indulgent moment. It's the vibe.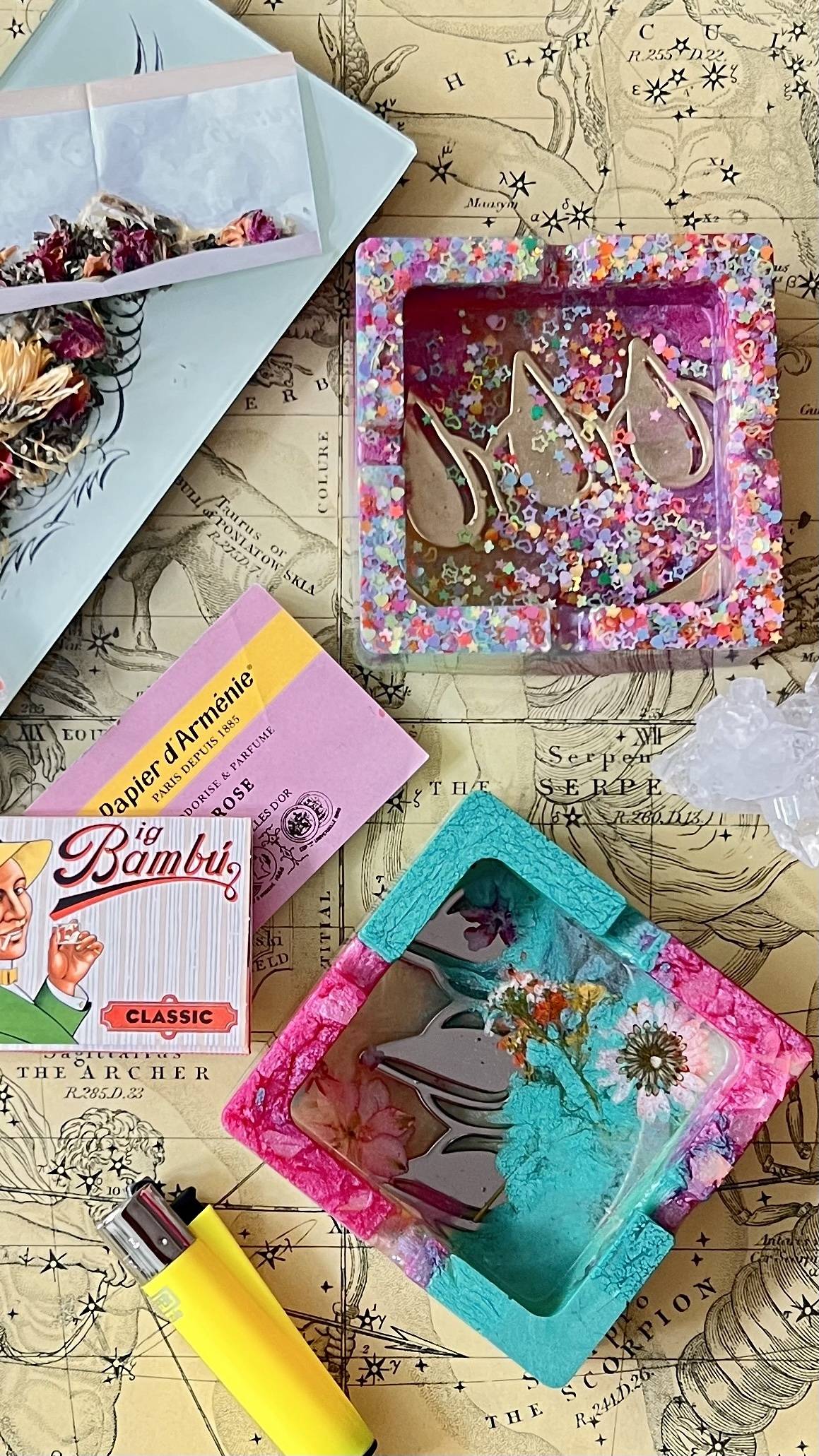 Hi Jada! Happy 420!
Hi!
What's 420 mamii all about and when did you start it?
420 mamii is all about normalizing women smoking marijuana and being able to find cute products for stoner girls. I started 420 Mami during the pandemic. I was scrolling on the internet and discovered resin art and became infatuated with it. I was also looking online for cute products for smoking and didn't come across anything that spoke to me. Everything I found was owned by men, very masculine or generic looking. I decided I should make my own since I had so much free time! I ordered resin supplies to make an ashtray and cured a bunch of random things in my room that I never used. After lots of trial and error, I finally made an ashtray that was cute enough for my bedroom.
What's your relationship to CLAW and how does her brand work well with yours?
The opportunity arose to collaborate with Claudia and it was a full circle moment. I went to the high school up the block from the CLAW's (now closed) boutique on Delancey Street, and she's been a huge inspiration to me. I was introduced to her art 11 years ago and loved that she always celebrated women. She's the perfect person to collab with, that's exactly what I want to do with 420 mamii.
What's the future vision for 420 mamii and who else would you love to work with?
I hope to collab with other small, women-owned businesses selling cute supplies for stoner girls, one of my favorites being Vienero. I would like 420 mamii to expand beyond ashtrays to include all the necessities a girl needs.