AT HOME WITH
LAURA CHAUTIN
Would it be safe, or too niche to say that we all aspire to be cool and casually incongruous in a way that gives Art Kid, Laura Ashley Baby and Punk Rock all at once? The work of multi-disciplinary artist Laura Chautin, who is most well-known for her ceramics, speaks to a vision that is at once prim and trad, but manages to upend expectation by letting things get loosey-goosey in all the best, whimisical ways. It only makes sense that we love it so much.
Afternoon Light is very pleased to introduce a special collaboration with Chautin: a hand-painted paper lamp featuring a halo spray of flowers, in edition of 10. Ripe and dichotomous, as her work is known to be, this showstopper is illuminated and shadowy, soft but remarkable, warm and frosty, haunting yet innocent. It's sophisticated with an edge, proper and rebellious.
The artist Mary Manning took some portraits of Chautin at her new apartment on a cold day in November. Then Chautin answered a few questions for us about her practice, newly married life, and her community in NYC: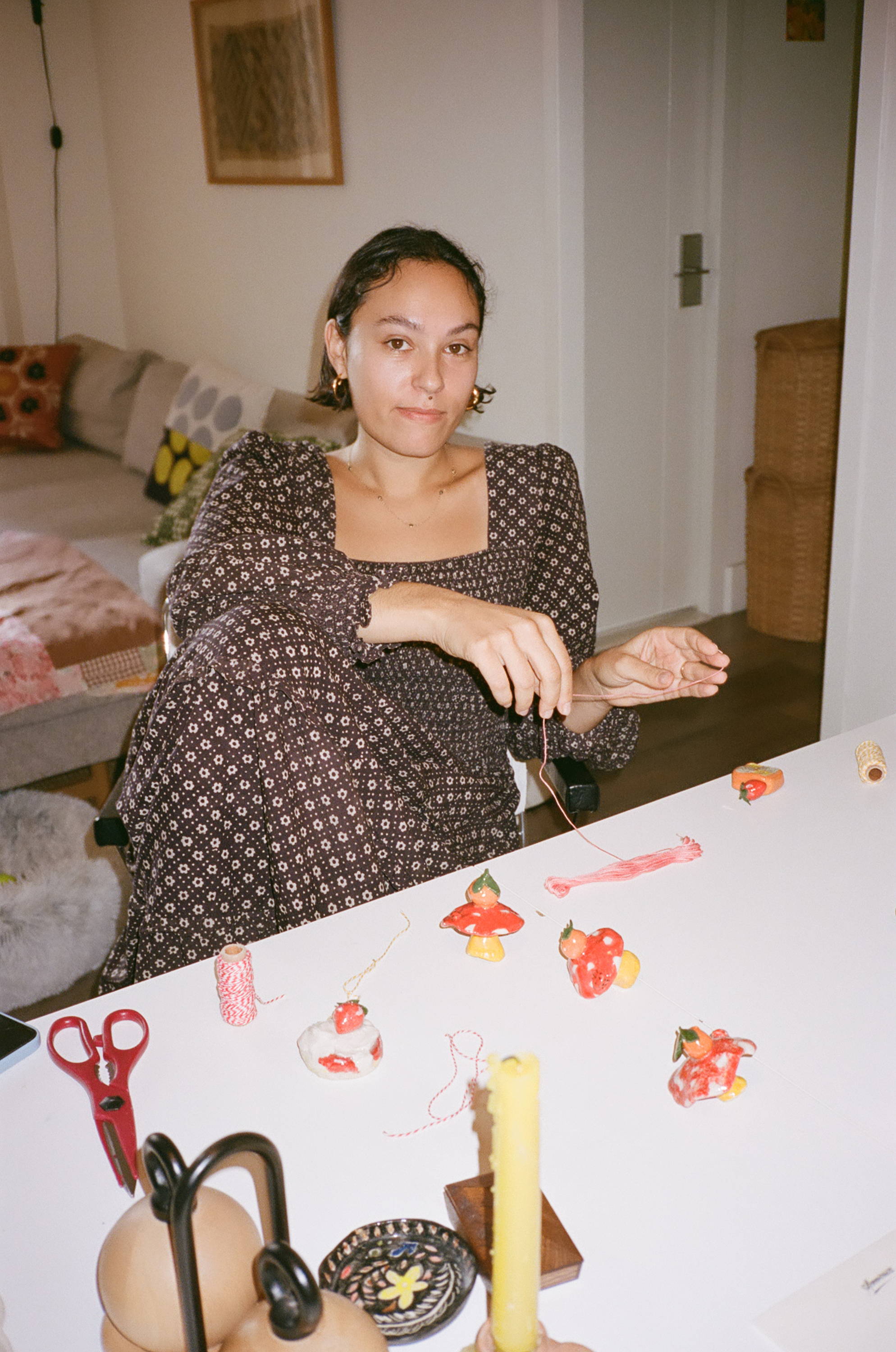 Afternoon Light: Hi Laura! Introduce yourself – where are you from, where are you living now? Where have you been and where are you going?
Laura Chautin: Hello! My name is Laura Chautin- I'm an English American Artist based in New York. Born and raised in London, moved to America when I was 16 and flip-flopped back and forth. I've been living here for 10 years now, wowee.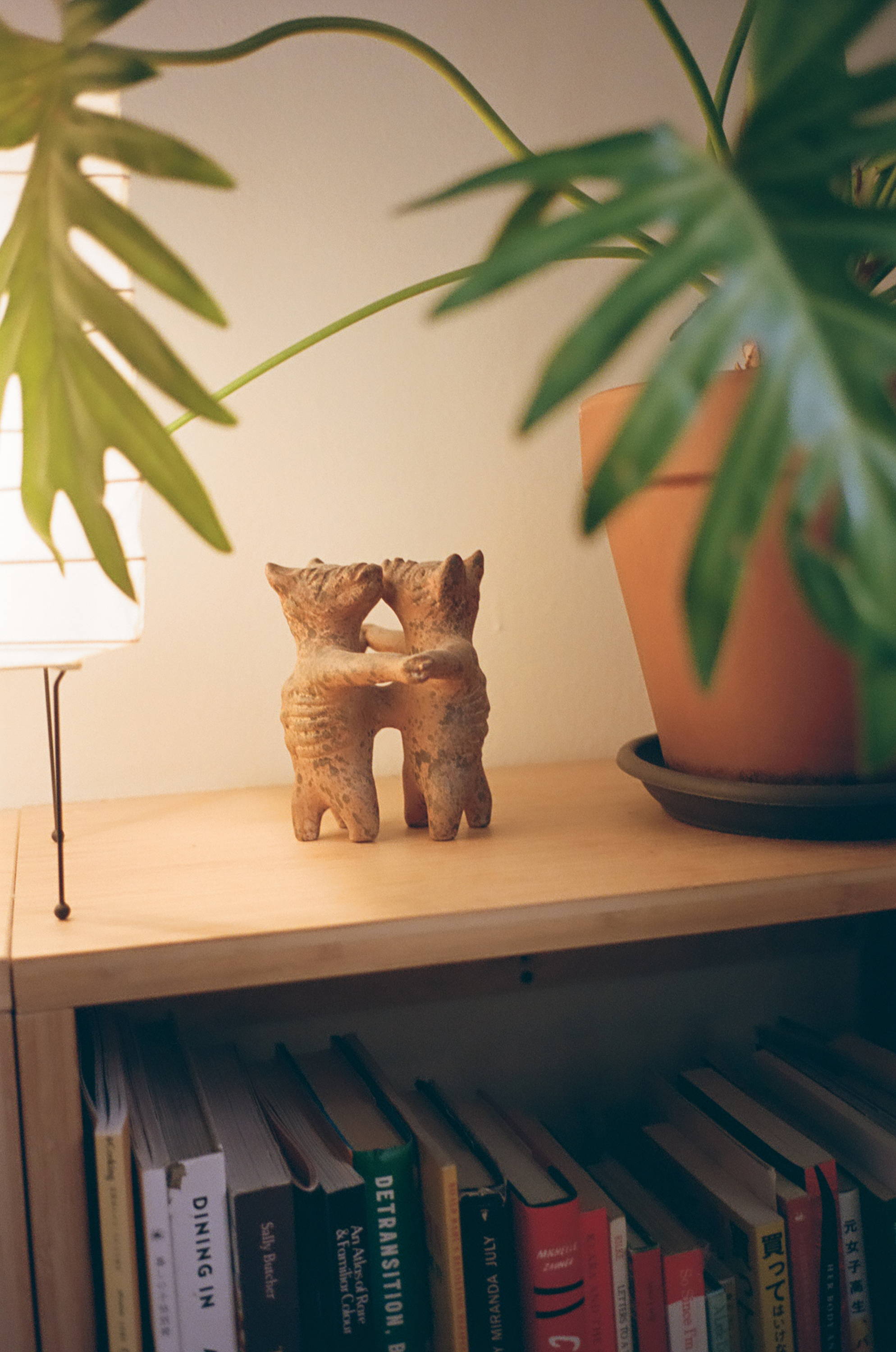 AL: We've been following your work on Instagram for some time now and we're big fans. Can you tell us about your journey as an artist? What were you making as a kid?
LC: Thank you! Art was the only class I really felt confident in as a kid. I think I was lucky with my teachers in London who let me do whatever I wanted and explore all different types of making. I loved to draw as a kid and make GIANT scrapbooks. I went to college in Chicago where again I got to explore different paths of making, it was very freeing and I think translates into my art today.
AL: You work in many mediums and are most often called a ceramicist, but are also an illustrator and painter. Is there an order to how you create or what you like to do best, or does it vary at any given moment? Does it come in waves or phases?
LC: It really varies for me. I think because I pay for a ceramic studio, I make it a point to go there and produce work. Ceramics feel more steady because it is a direct way of income. Illustration and painting definitely come in waves. Sometimes I have an urge to paint something very specific (like a dessert I saw in a cookbook) other times I'll work consistently on illustrations because I have a project to do.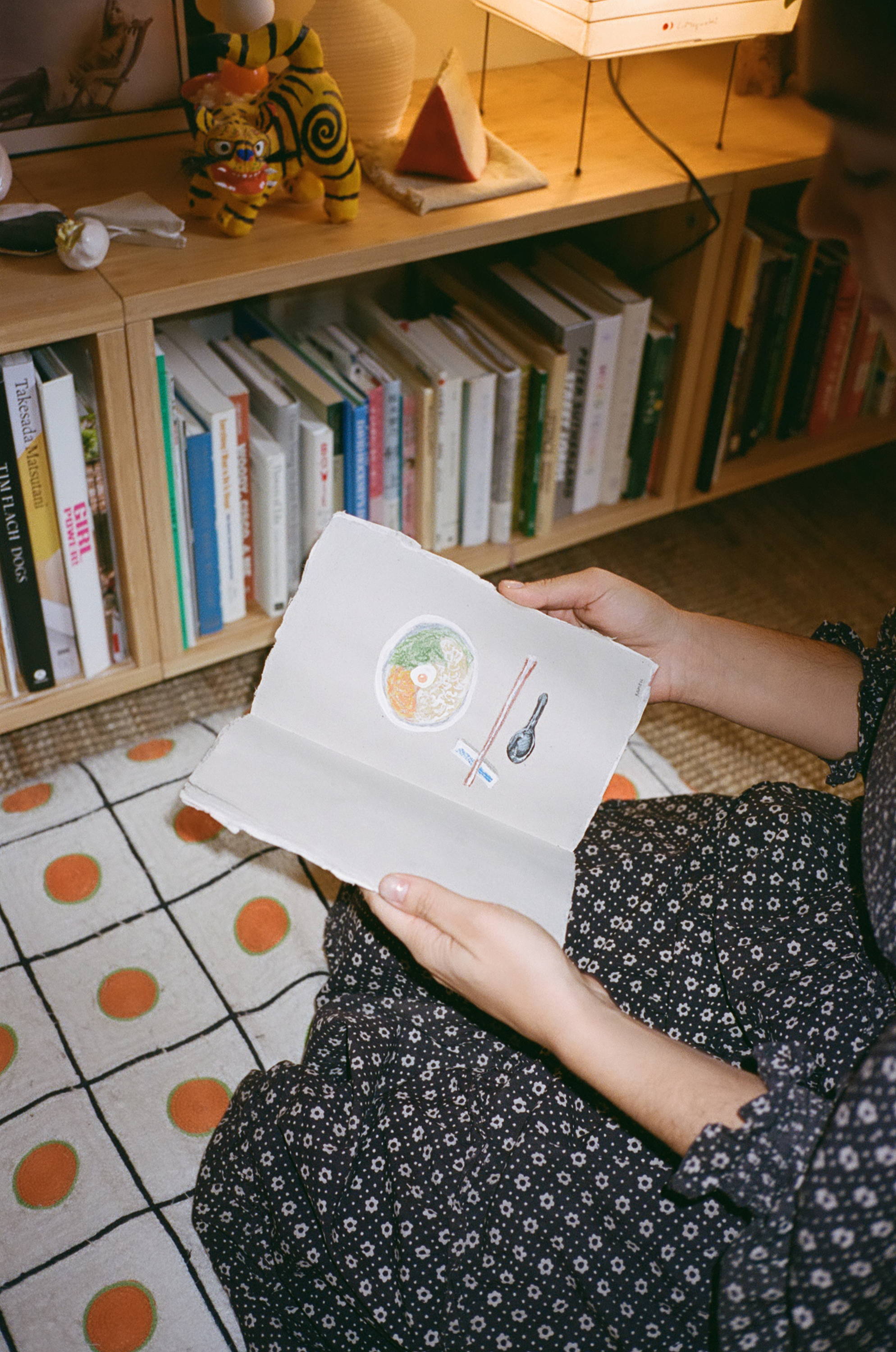 AL: We read about your recent wedding on Vogue.com – congratulations! Tell us a little about your partner, if you wouldn't mind, and how's married life? And then would you tell us about that Sandy Liang dress?!
CL:Why thank you! My partner is the best person in the world! I love them. Their name is Masami Hosono. We met at their hair salon Vacancy Project 4 years ago. Married life is just the same as before but I guess now we are more serious about planning our future together and making actual steps to see our goals be realized.
Sandy Liang is a friend of mine and I (along with most of NYC) am obsessed with her designs. I knew I wanted to wear something of hers, I didn't think it would be custom but she very sweetly agreed to make my dream dress. She happened to be releasing her Bridal collection a couple of months later, so it was perfect timing for her. I feel honored I was one of her first brides! I basically showed her a bunch of inspiration, which were Rococo paintings and Jane Austen period dresses. She got the memo immediately. I wanted it to be pink so that I could wear the dress again. A casual piece I will show up to work in.
AL: You just got a new apartment – is cohabitation relatively new for you? Can you tell us about the new space?
LC:As the old Uhaul stereotype goes, we fit right into it. I think I casually moved in with Masami a month after dating? Oops.
I love our new space, it's very adult, I have actual closets and storage space.
AL: Where is your studio and can you describe it? What's your schedule of working there versus at home?
LC: My ceramic studio is a shared space in Brooklyn. It's a wonderful group of inspiring people who are all willing to share knowledge and help out in a pinch! My schedule varies depending on what jobs I have, but recently I have more ceramic work than illustration, so I am there at least 5 days a week!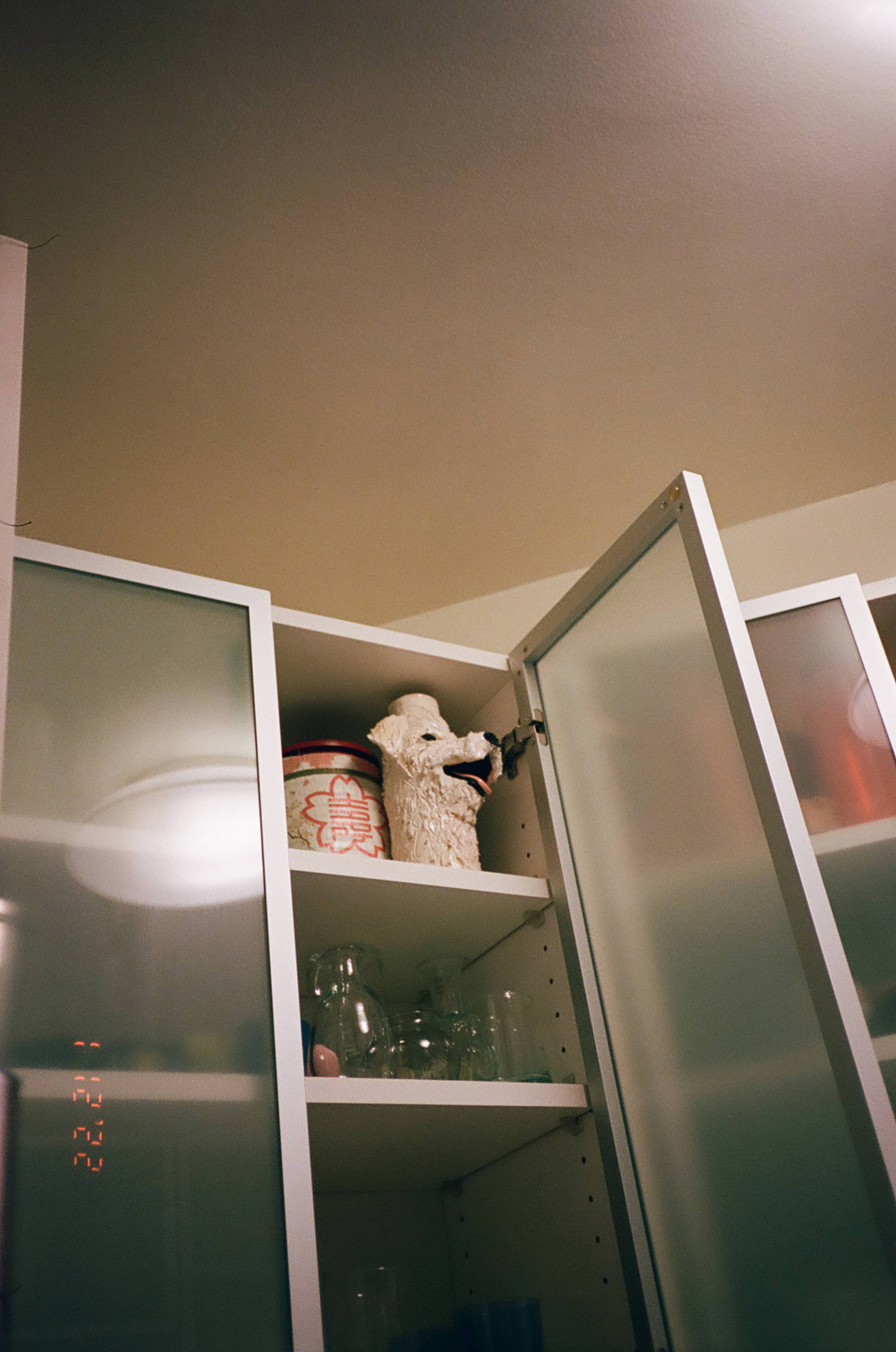 AL: What's your favorite room in the new apartment and why?
LC: I love the living/dining room area, it's spacious! I can host more than 5 people which is new to my NYC life.  
AL: Do you have any good views?
LC: Oh yes, a pickleball court!
AL: What's the last piece of home décor you bought?
LC: A paper mache (hariko) tiger from Japan! It symbolizes protection.
AL: What's one thing in your apartment you'll never get rid of?
LC: My noise machine.
AL: Your work says "romantic" and "nostalgic" (to us) – what are your ideas about both? And what things/people/places inspire those qualities for you?
LC: Nostalgia plays a key role in my work, I think about it a lot. I draw a lot of inspiration from growing up in England and memories of travel to visit family in Italy. I like the idea of my pieces reading as romantic, I love it when daily use objects can be both practical but spark fuzzy feelings in you when using and looking at them.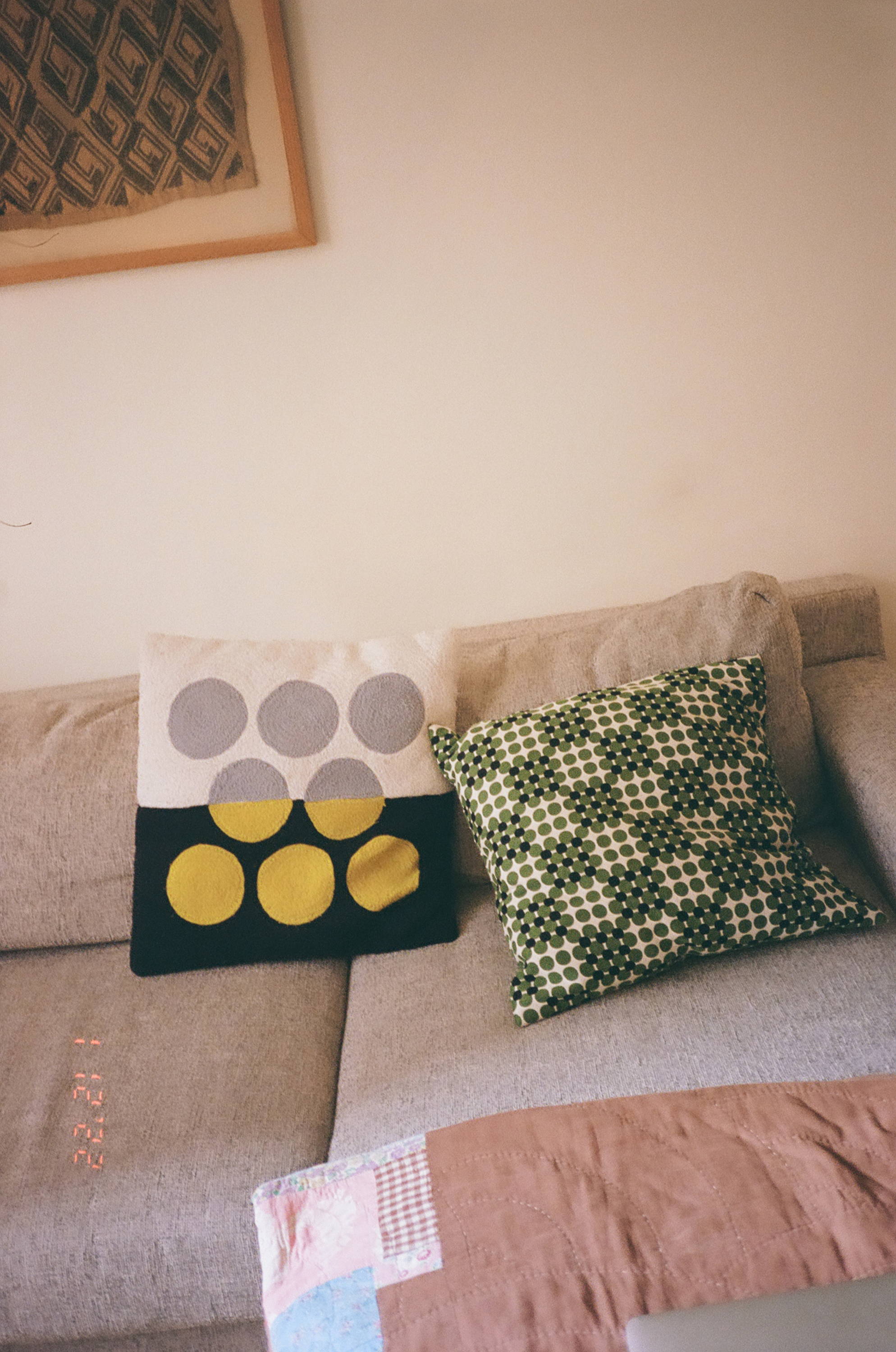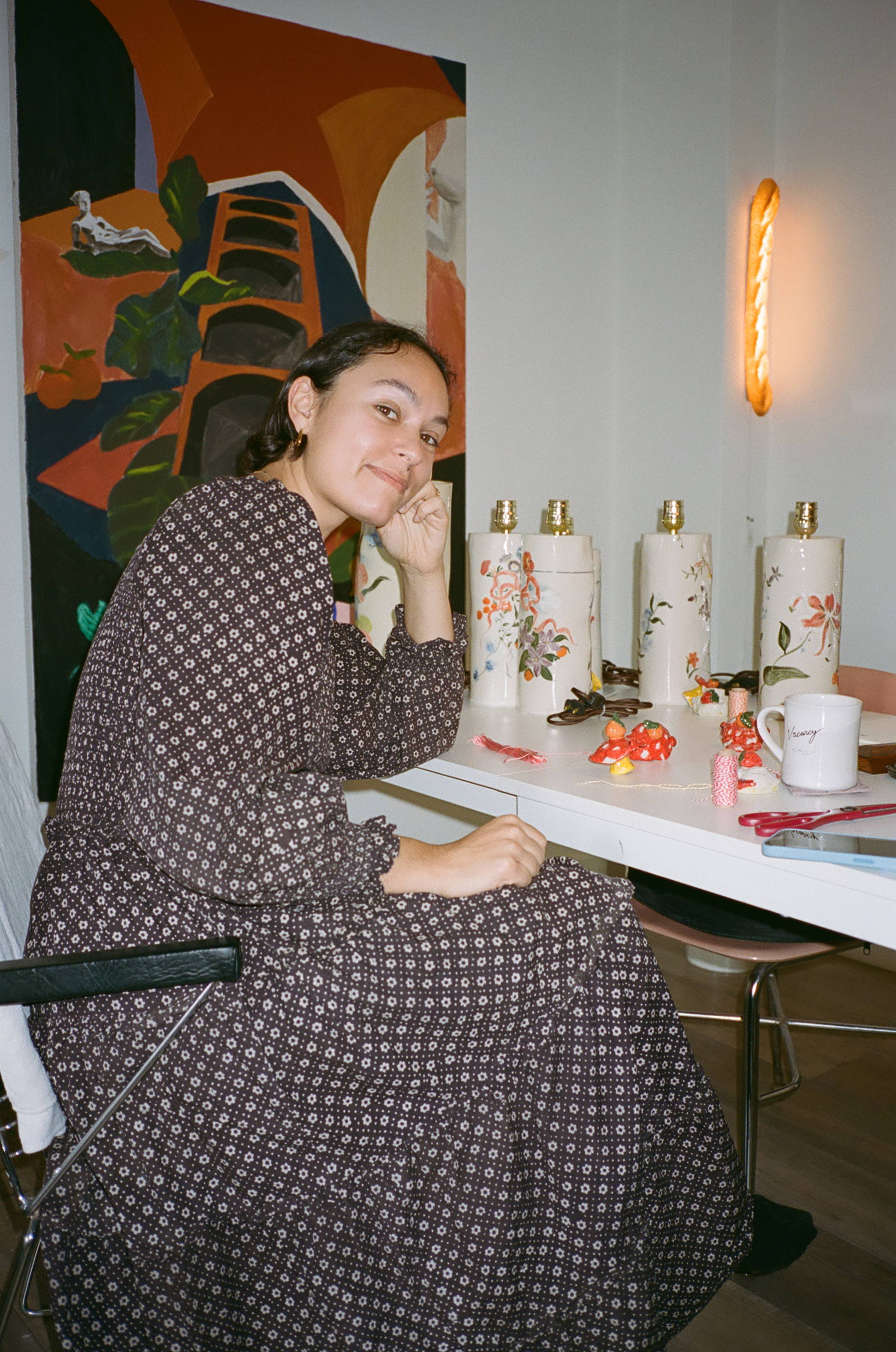 AL: It seems like you have a strong community of fellow artists and creatives in New York – can you talk about that a little bit?
LC: I love living in New York because of this community. I have old friends from when I was 13 living here, I also have new friends that have introduced me to new wonderful worlds. There's a real sense of community which is really special. I'm a little distant from the gallery world although one day I would love to dip my toes into it, seeing friends be a part of the "art" world is very inspiring to me. New Yorkers are the coolest!
AL:You recently collaborated with another one of our favorite artists, your good friend Katie Kimmel – how do you guys know each other and what was that process like?
LC: I met Katie at college in Chicago. I instantly thought she was a special one, she's like no other! I'm such a fan of her art, her humour and her unwavering loyalty to her friends. All of these qualities lend to a very natural way of working together. For this most recent stint of working together, we watched non-stop murder docs with a splash of Sweet Magnolias dotted in. Nothing like getting chilled to the bones to inspire the creative mind! 
AL:What are your favorite flowers to paint or draw?
LC: I love an Iris, Lily, Daffodil, Rose, Anemone, Poppy...the list goes on.
AL: We saw you painted a hanging paper lamp for a friend and that's what inspired our exclusive lamp with you – who's idea was it? How did you approach the pieces you made for us and what do you think about the results?  
LC: That lamp was my friend's idea. We were staying at their place upstate and they very casually said that if I felt inclined to paint it, I should! Very happy I did!
For the piece I made you, I started with a preliminary painting before delving right in. The stakes were a little higher so I wanted to make sure we were all on the same page and liked the direction. I adore the lamps! I feel they are the perfect amount of color. I love the way the painting moves around the piece and how the light illuminates the whites. The lamps are serene and add a touch of decoration without being overwhelming.  
AL: Morning light, afternoon light, or moonlight?
LC: Afternoon light, of course.
Laura Chautin photographed at home by Mary Manning