CAMELLA EHLKE
The artist & fashion pioneer
talks craft and community.


What will Santa find hung up by the fire at your place this holiday season? Cheapo stockings aren't for everyone (how dare you insult your mantle), nor are all among us crafty enough to make our own (maybe someday). But never fear lovers of handicraft and hypebeasters alike – we've got you. Afternoon Light is pleased to present in very limited quantities, handmade holiday stockings by Brooklyn-based artist Camella Ehlke. Each stocking is a patchwork pleasure, utlizing textile remnants from some of Camella's fellow creatives' brands (Noah, Awake, Off-White and more) coupled with some regognizable graphics and some cozy, familiar elements of your favorite hoodie. Keepsakes for the very cool.
Here, Camella answers a few questions for us about past, present and future.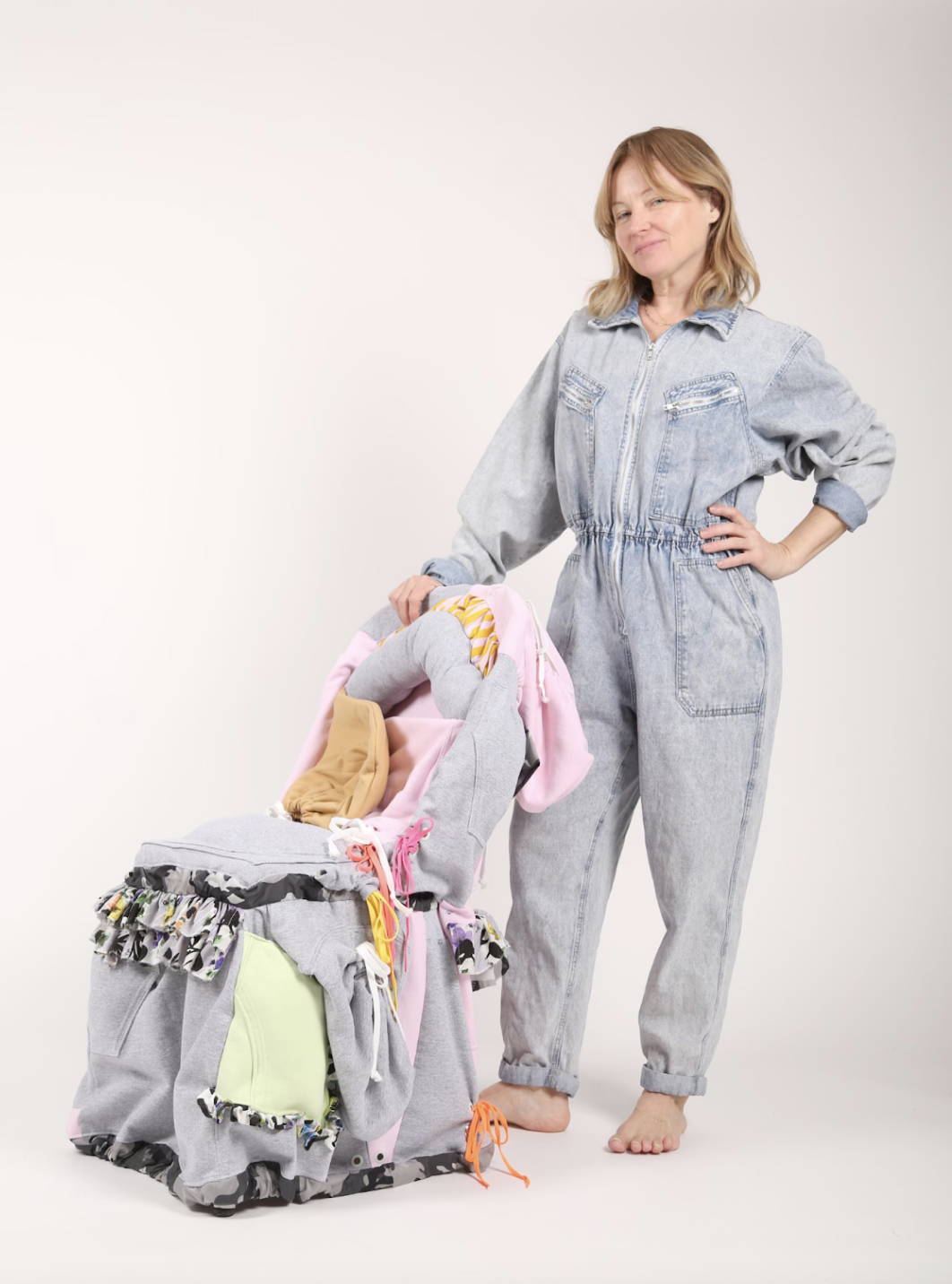 Name: Camella Ehlke
Location: Brooklyn, New York
Star Sign: Libra 
Afternoon Light: Camella, you're most well known for being a fashion pioneer in founding the legendary streetwear label Triple Five Soul in 1989, that you began out of a storefront on Ludlow Street in New York's Lower East Side. That was really an important beginning of the apparel movement we know as Streetwear, certainly on the East Coast. New York was a very different place, fashion and hip-hop and commerce has changed so much. Can you speak a little about that time in your life and career? It's hard to summarize the beginning of a movement, but I'd love to hear what the mood was and how the experience shaped you.
Camella Ehlke: In 1989 I was living in a storefront apartment on Ludlow Street when I decided to start my business. I was interested in the process of making and creating more than the selling. I think at the time it was about having my friends wear my designs and get noticed. We were artists, djs, musicians, and skaters. The rent was cheap, my store was more of a clubhouse. Friends hung out while I sewed, sometimes friends would graffiti the walls or front gates. We often had dj parties with a mic in the backyard. We were all pretty young and moving around in the arts and club scene back then. NYC was pretty gritty . The street style was original and eclectic. We had punk style, hip hop street style, baggy pants, big earrings. We mainly were moving around from party to party. I was selling my designs in some of the clubs as well as small shops like Patricia Field, who was known for her club clothes and drag queen community. Detent, a cool Japanese store and Liquid Sky, a sort of rave-meets-outerspace shop. The styles were all mixed up downtown. Paper magazine was a testament to this eclecticism and style mixing. Puffy used to come into my shop and have me make custom outfits for new artists he was singing to Uptown records. Pos from DelaSoul used to come into the shop for the tie hats. It was pretty difficult to find my store back then. It was mainly word of mouth. This was before cellphones and the internet; hard to imagine now…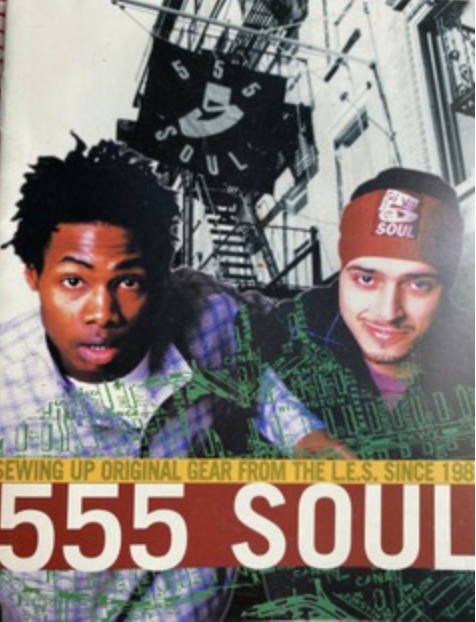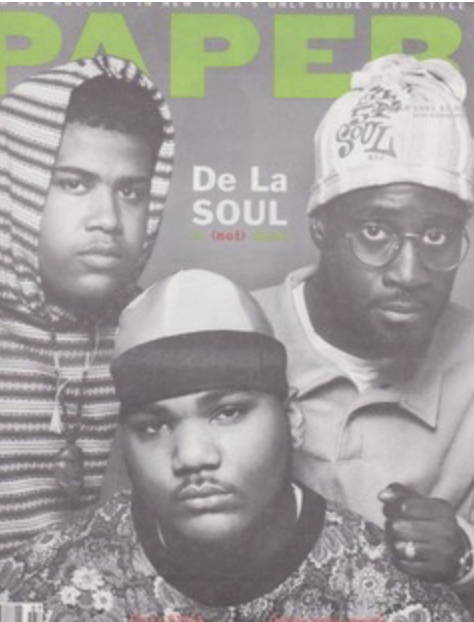 AL: At the heart of TFS's beginning was craft – and you're still sewing, still creating from a place of discovery and meditation. What's remained a constant for you in your craft and creativity since those early days?
CE: It's About community. It's always been about community and working with or alongside my friends. I love a good art exhibition, party or gathering when we come together to play music, dance, laugh, and make art.
AL: When you were a kid, did you imagine yourself doing the things you have, or the woman you are today?
CE: I think I always had this idea in my mind to make art or be an artist. The sewing machine basically became my paintbrush. I feel most alive and connected when I am inspired and come up with concepts and projects.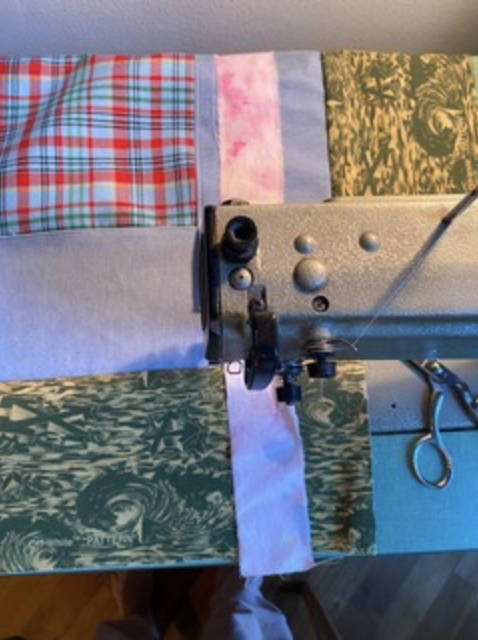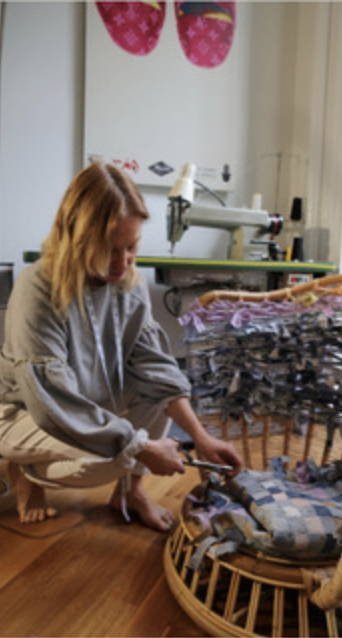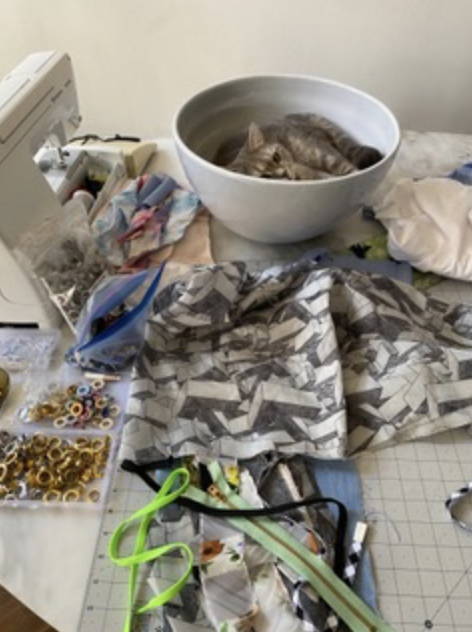 AL: We loved your recent series of "outfits for chairs'' that you showed as "Hey, What's Up?" at the GBA gallery. Can you tell us about how that project started?
CE: This project actually was sparked about 20 years ago; I took garments from my Triple5Soul collection and sewed them into different furniture covers. During the pandemic Virgil Abloh was talking to me about some collaboration ideas or how to bring me into his world. He was very excited to make art together. We discussed furniture and objects and I was curious about how to imagine fashion for furniture. Taking iconic chair silhouettes and refashioning them without reshaping them or getting tired of them in your home. I like the idea of collaboration as well as community so collaborating with his materials was an obvious starting point. I also like the idea of repurposing fashion, so taking excess from his collection made sense. I then reached out to a few other brands and asked them to send or drop off some hoodie sweatshirts. I took the sweatshirts and repurposed and cut them into designs for basic chairs, Virgil's fabrics were sewn into covers for the Eames plywood chairs and woven into a Gubi chair. I took each brand's identity into consideration. For example the Noah sweatshirts I fashioned into a long stuffed rope which encompasses most of the chair, The Off-White materials I made into a sweatshirt/skirt look which I feel Virgil's style embodied with the fancy skirt and hooded sweatshirt look. Angelo from Awake gave me some sweatshirts from his personal collection that I cut up into bubble font, paint drip graffiti.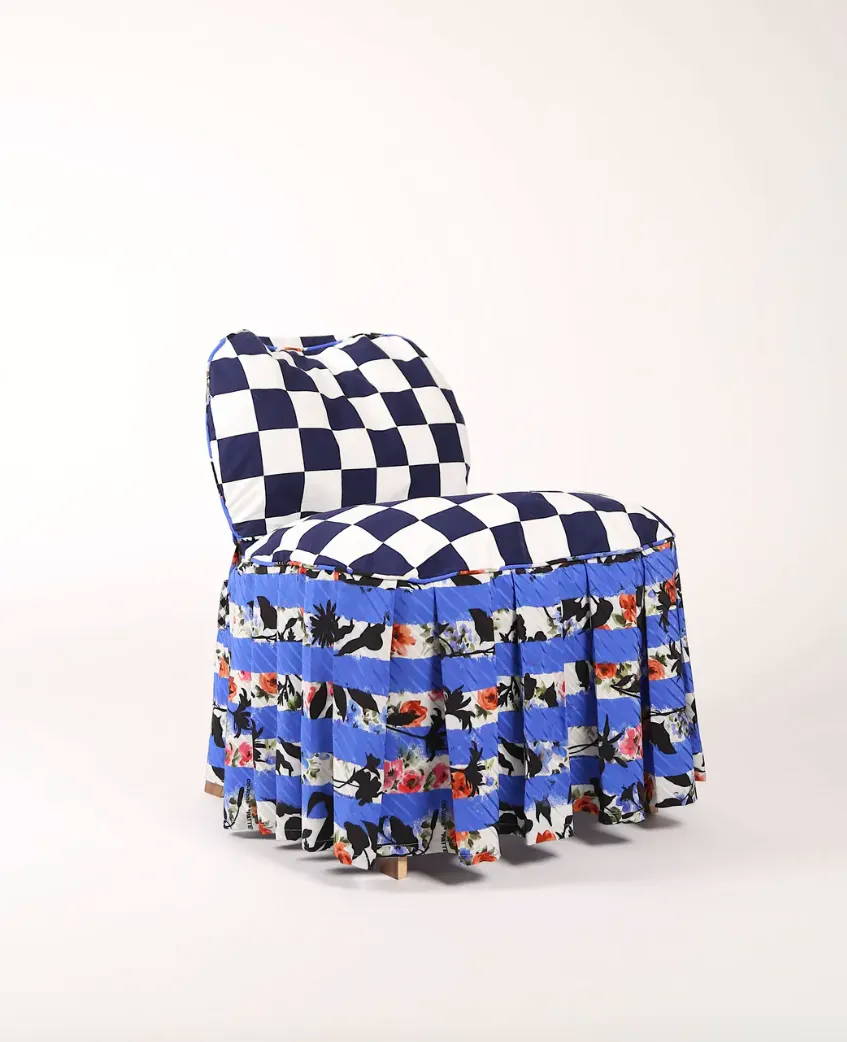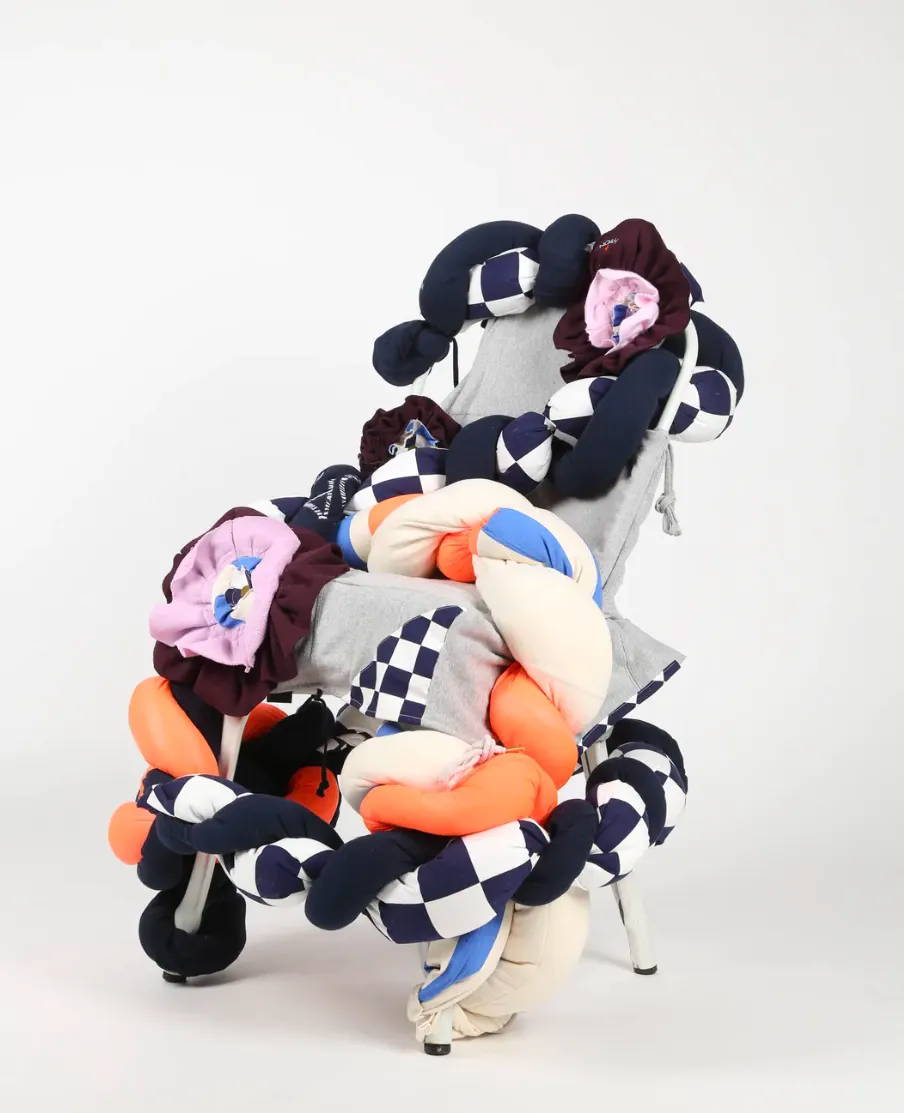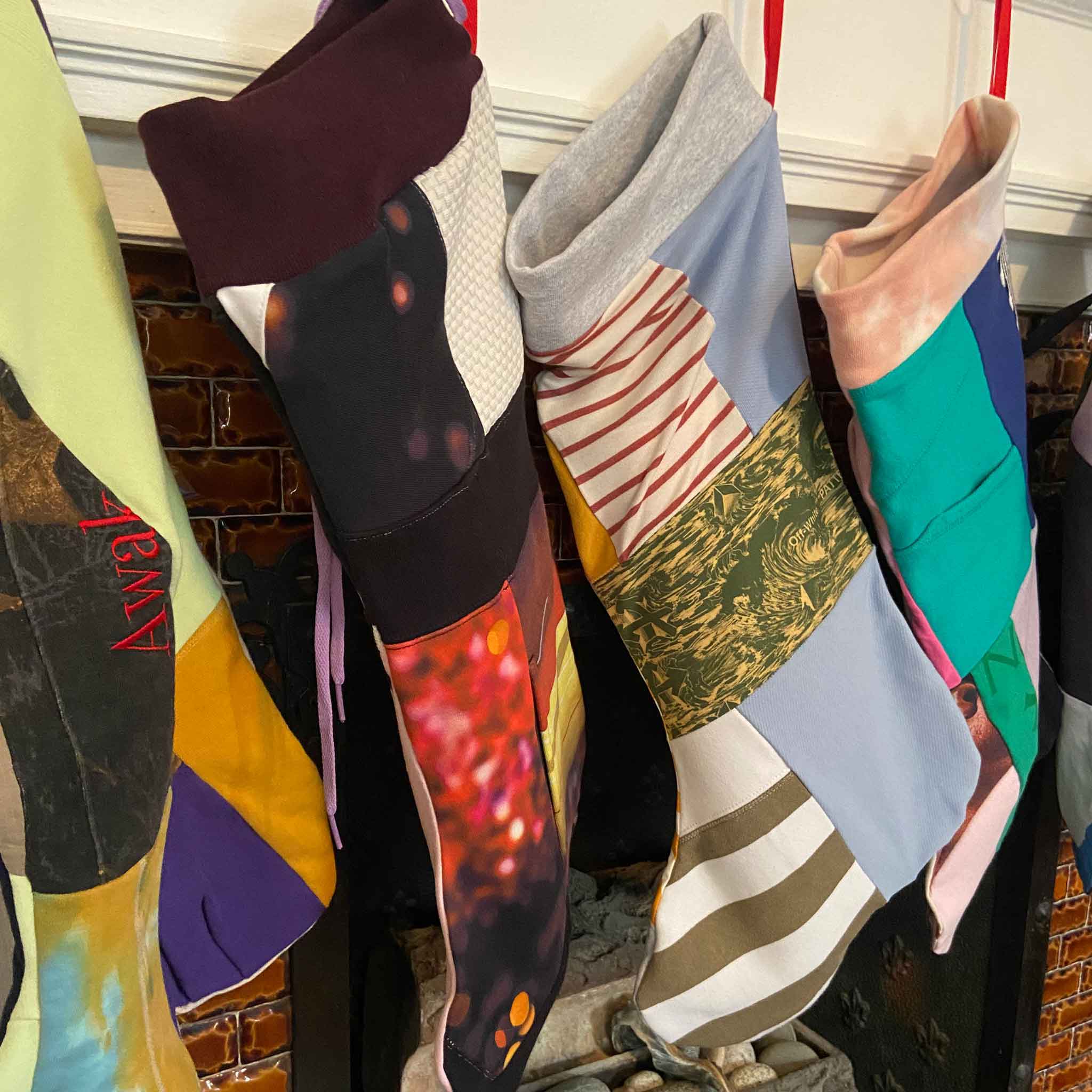 AL: The limited holiday stockings that you made for us are an extension of that work, utilizing some surplus from that project and from your collection of fabrics. What else are you creating now?
CE: I am currently doing creative direction to relaunch 555 Soul as well as producing another collection of chair concepts. I have this idea to sew wall hanging tapestries to take on the form of a chair cover or table top installation.
AL: Tell us what a perfect day at home looks like?
CE: A perfect day is a cup of matcha, sending my teens off to school, putting on a proper playlist or podcast, burning some sage or incense and getting to work. My studio /work space has taken over my dining room. I haven't left since the pandemic. So for now I work from home. My industrial Juki sewing machine is set up in my front windows so I can also see friends and neighbors sometimes passing by. I am most happy when I am sitting and sewing. A nice long walk in the park also adds to my day. A little stoop party in the evening never hurts.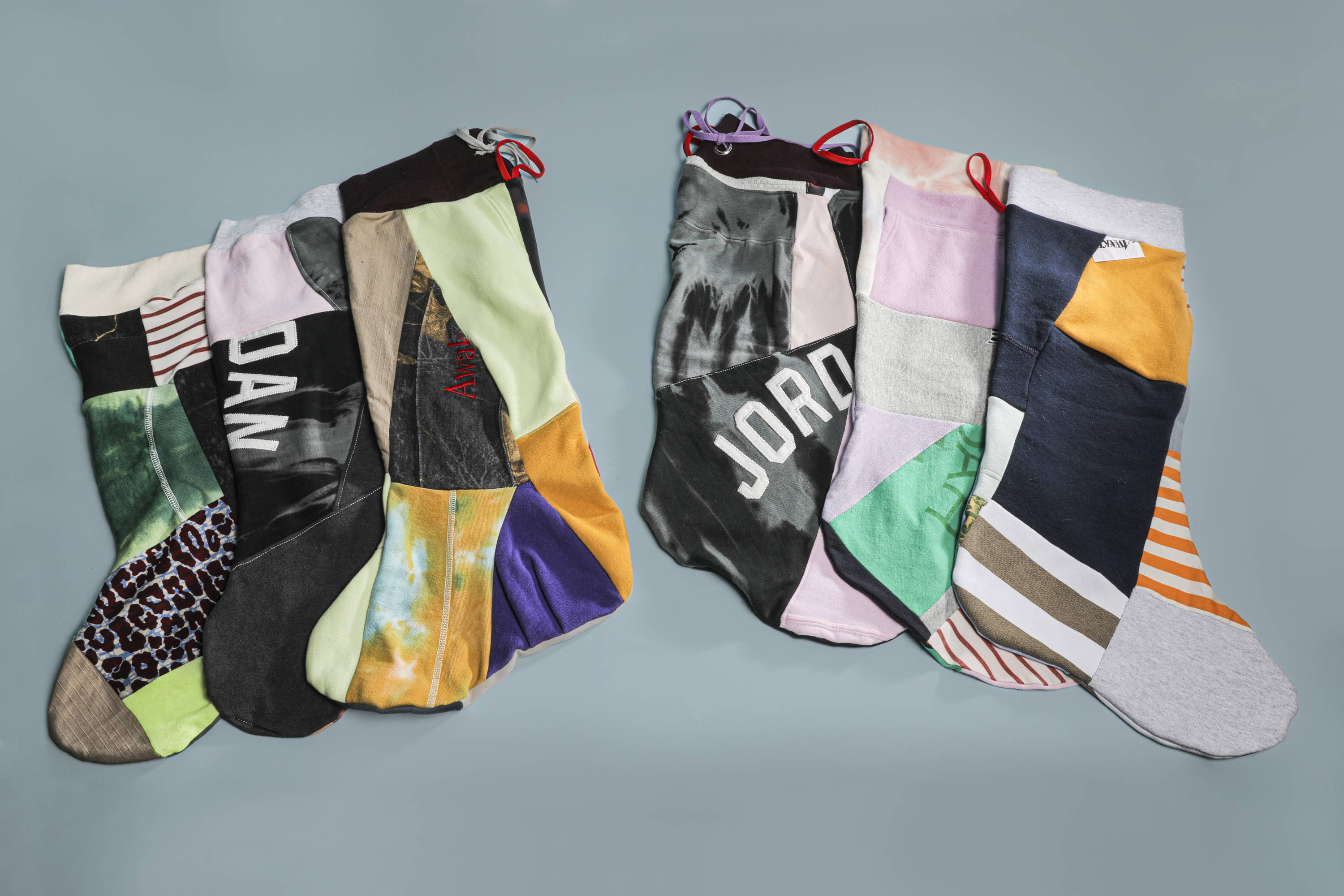 AL: What are some of your go-to methods for staying creatively engaged?
CE: I still utilize what NY has to offer. I go to museum exhibitions, friends' art openings or random gallery openings. I live around the corner from BAM so I attend a lot of dance and theater as well. 
AL: What's your dream project? 
CE: A dream project would be to set up a network of community kiosk closets to share and provide for people in need. I also would love to find an old property like a castle, monastery farm or hotel somewhere outside of the US, maybe Spain or Portugal, to set up an artist/maker residency where we produce a crop in small batches and design products around the things we grow and make. Live a sustainable lifestyle and provide income and space for traditional craft making alongside farming or growing plants, like hand dying, weaving, glass blowing, pottery, and woodworking.